Joined

Aug 23, 2005
Messages

1,754
Location
It's time for the annual Snow Run. It sure will be nice to get back out on the trail. This year we will pass on the group meeting for pizza afterwards. Instead, I figure I will buy about 50-60 breakfast burritos from Santiago's and hand them out to people at the drivers meeting and throughout the day.
Date: Sun. Jan 31st, 2021
Meeting Time: 8:30-9:00 am - Leave at 9:30
Meeting Place: Cemetery area half mile above (west) of Central City. Go due west out of Central City up the hill about a one mile. At the top of the hill
west of Central City at the multi fork in the road. Continue on the middle road west 1/2 mile and look for the new Yankee Hill trailhead on the right. Vehicles with trailers can park there.
39°48'43.9"N 105°32'26.1"W (39.812190, -105.540586)
CB Channel 4 - Ham - 146430
Will will air down and/or chain up (if your using chains) at the meeting place.
Difficulty - this run is open to everyone. The only requirement is to have hard points front and rear for strapping purposes and of course a strap ready to go. A shovel and additional recovery gear is highly recommended. As was mentions have a good radio is key on this run for many reasons. I am new to GRMS/FRS so will need to borrow one I suppose.
Based on the conditions the ice could be a serious consideration. Especially on the hill above the middle parking lot. Coming down down that spot last year was a bit of an uncontrolled slide . Fortunately the ruts kept your on the road. So chains may come in handy. I don't use them myself. but I do have a new set of mud tires.
Be prepared to stay warm and dry with winter clothing and boots. It can be really cold and windy up there.
Here is a picture from last year.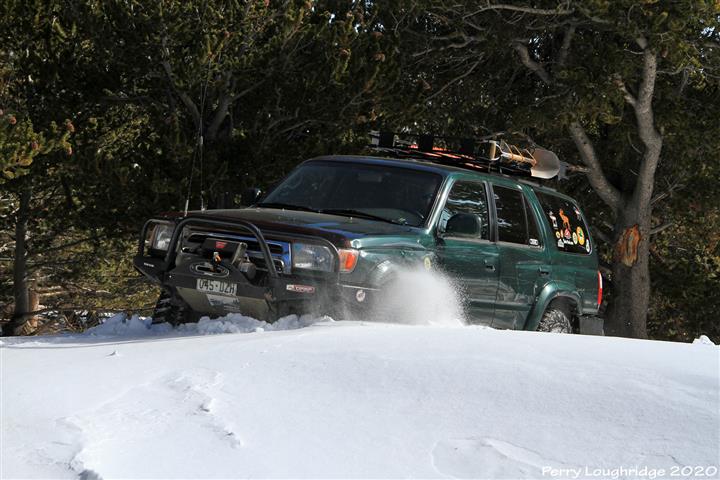 Last edited: