Club Secretary
Staff member
Moderator
Joined

Aug 23, 2005
Messages

13,620
Location
So I seem to have this conversation at least once per week. Let me summarize a few key points for you to ponder...
A hard mounted panel on top of a roof of typical rig like ours is great for keeping the battery(ies) float charged between uses. Like if you have an extra rig that sits outside a lot, great idea. If you want to park at the airport for 2 weeks and come back to a happy battery, great.
If your intent is to run a fridge indefinitely, this might not work as well as you think. Basically fridges and solar panels want different things in life... direct sun is best for one, while shade is best for the other. I have run this personally in several vehicles so will share my experiences.
Working setup 1
:
60 in the shade
. In the 60 this past summer at Overland Expo Mtn. the 60 was parked for 3 full days without the truck being started. I had a 120watt panel hooked up to a PWM charge controller, the battery was anywhere from 12.2-13.0 depending on time of day, in fact there were times the battery being charged by solar, which was also running the Iceco fridge, was so happy that the ACR switched on to charge the other battery for a while. Windows/hatch were open pretty much the whole time, one side of the truck was shaded by an awning most of the day, and the roof was further insulated by a RTT. So almost no direct sun going into the truck, and the inside of the truck stayed pretty close to ambient temp, mid 90's. Even though the panel was portable, I didn't bother optimizing its angle to the sun but rather just flopped it on top of the awning and left it there. Could have run the fridge all summer long in these conditions, here's a pic: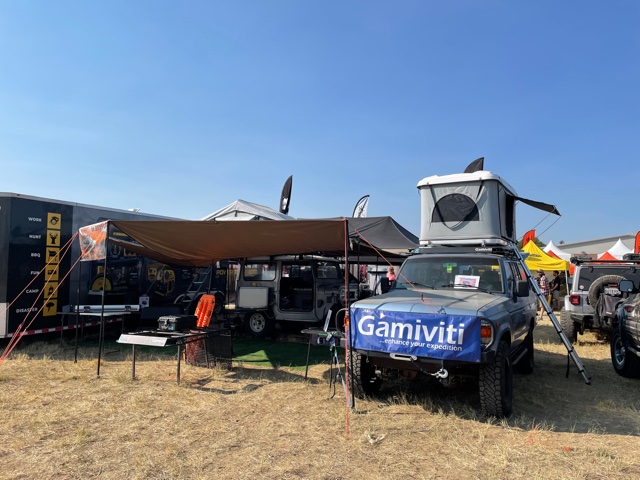 Working setup 2
:
Class C Motorhome
. We had a class C (sold it) but I installed 2 100 watt panels to the top of it, MPPT charge controller to the 2nd battery. And that setup kept a Dometic fridge running literally the entire summer of 2020. My son and his friend feeding off the sponsored supplies of Arnold Palmers and Gatorades, occasionally charging the portable power station that fed AC power to the TV and Nintendo. Big benefit here is the added airspace inside the RV, and the insulation, even when it's 100F outside it never feels that hot inside the RV, even with the windows closed... so a little more like a house than a car. Here's a pic: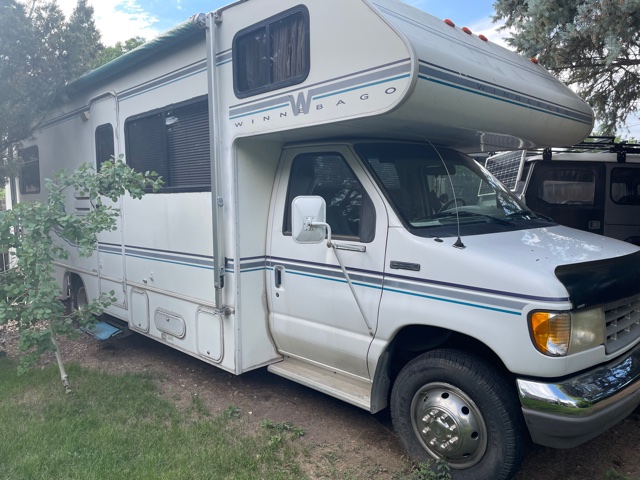 Failed Setup 1: GX470 under rack mount.
I mounted a 100 watt panel underneath a roof rack, mainly to protect the panel and so I could strap other junk on top of it. But I also tried several times to let the thing just run the fridge in the driveway. It lasted longer than no panel, but at some point the inside of the car would get too hot and the fridge would error out and over-temp condition. Did this with both the ACO fridges and the Dometic... happened more often with the ACO's. Even with the 3rd row windows cracked, it's just too hot inside the car in the hot sun, and not enough airflow... the fridge is on pretty much constantly and at some point either runs out of juice or just gets too hot. Here's a pic:
If you have a portable power supply, like a Goal Zero, Jackery, etc. and can measure inbound wattage from your panel, use that to do a little test of your setup. You will likely be shocked just how drastically you reduce wattage simply by running your hand in front of the panel, putting an object in front of it, or changing its angle to the sun. The most I have ever seen from a 100w panel is about 89 watts, and that was literally in the driveway doing my best to optimize conditions... point being don't do any math on recovery rate of your battery thinking you're going to actually get 100 watts from a 100 watt panel, you will just be disappointed. I'll further say that quality of the panel, the controller, and even the battery doesn't matter as much as quality of running conditions- a clean onubstructed panel is going to out-produce a dirty fancy panel tucked behind a branch any day. And I'd also say the actual fridge doesn't matter much either- put an ARB Zero in a closed hot car against an Iceco in a shaded car and I'll put my money on, and beer into, the fridge that costs less than half as much.
You can't offest lack of ventilation by increasing solar power generation. You can prolong the battle, but at some point the electronics hit their limit, think of how we preach mechanical sympathy relative to gearing. That's why when asked which setup to do, I so often recommend a portable panel that can be placed in the sun, optimized for angle, while the car can stay in the shade with the windows down. Do this instead of, or in addition to, a hard mounted panel, but don't just do the hard mount panel.
Two other points I'll make about car-top solar. Solar is terrible at night, it just doesn't work. It's slightly more useful when it's cloudy or raining, kinda useless in the snow too. And it doesn't work when you're driving- the alternator wins that race to who gets to charge the battery. So solar only really comes into play for a couple hours late in the day, presuming you're driving every day and you stop to setup camp. Or maybe that odd lag day where you choose to do a hike or something. But if it's a road trip, or overland adventure, you're really not using your car-top solar panel that much.
Last edited: