Club Secretary
Staff member
Moderator
Joined

Aug 23, 2005
Messages

14,278
Location
Beautiful day, and great turnout! Thank you to everyone who made it out, and I hope you all had a great day. I think we had about 35 people total, and roughly 24 trucks.. was tough to count though as we weren't all ever in the same place.
@DomOfTheDead
we can sync up on trail hours...
I think we had 7 trucks total for Friday night's camping.. got kinda windy, but a fun night nonetheless for those to made it out early. Bonus was getting to camp involved a nice water crossing. Saturday morning started with the usual gathering, quite a few arrived late due to some traffic issues on I-70... but such is life now and there was plenty of patience to go around, this also allowed us to stage a couple different waves of trucks to help mitigate trail congestion.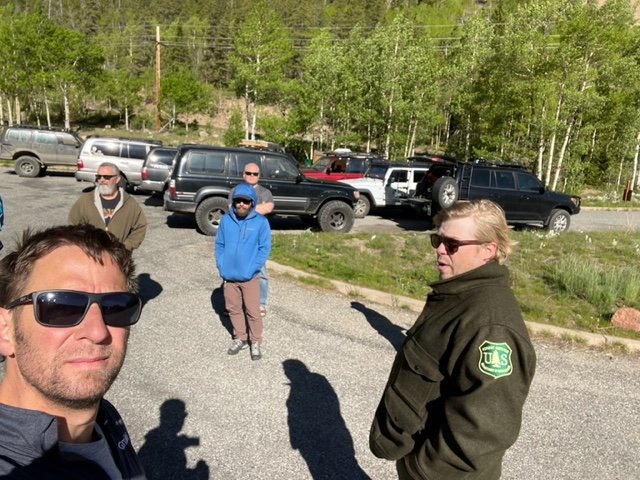 USFS Ranger Patrick led the usual intro meeting, and new guy Chris led a safety/risk assessment talk per usual when working with the Forest Service. These guys are so delighted with our club, love working with us on these days and pledged to have some fun new projects for us in the future.. they didn't run with us this year as they had some more pressing matters to attend to, plus they know we know what we're doing. More parking lot photos...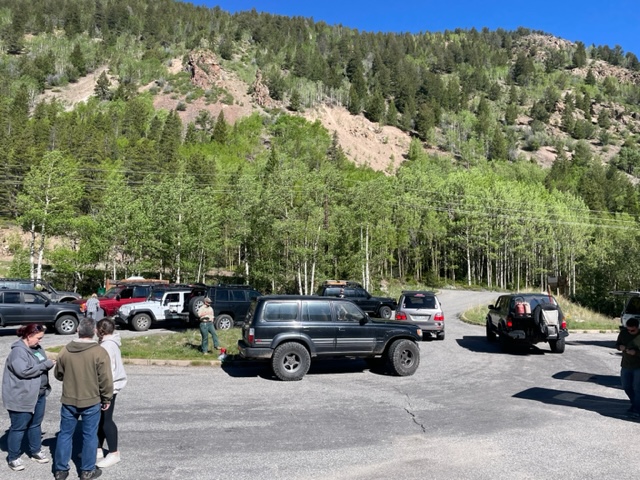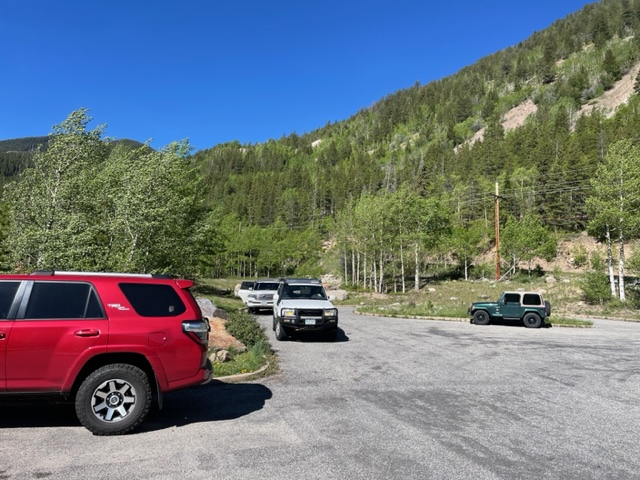 As usual everyone ran about every part of the area that was open, most doing the lower Leavenworth Creek road, others going up the main road, most coming down the main road. The actual trail work included cleaning up any vacant campsites, removing any duplicate fire rings, and clearing any downed trees in the road. More details on that will follow, as I actually didn't even run the trail....
This year I did something totally different, something I've been wanting to do for a few years now. I parked down at the bottom of the trail and set up to do a little greeter program, inspired by a similar effort a few of us did up in Lefthand Canyon like 20+ years ago... I parked at that first Y in the road, after you make it up from Guanella Pass.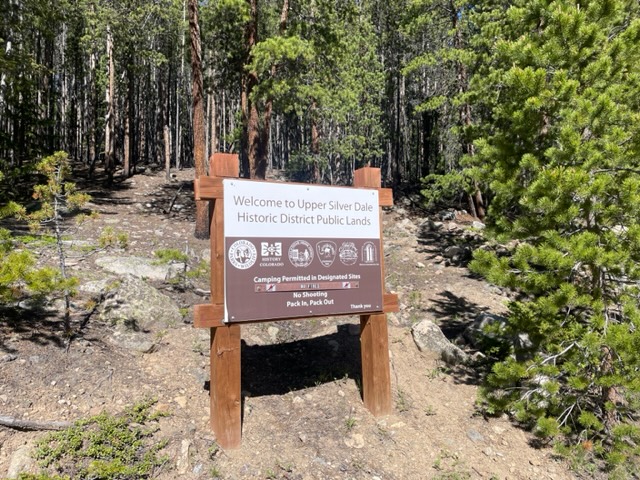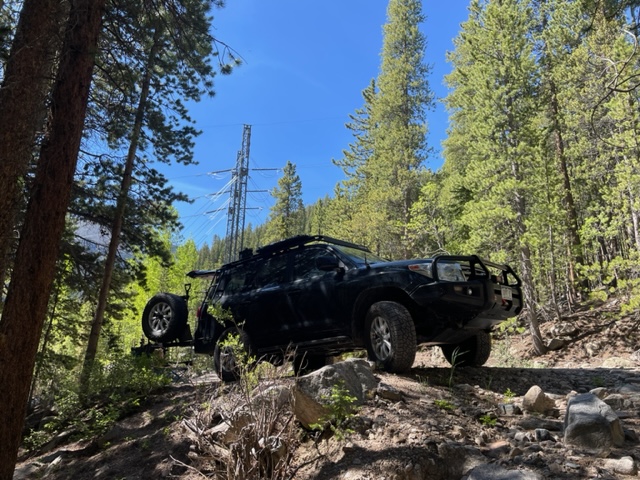 I was able to get a stack of MVUM's from the Rangers (motor vehicle use map) and so I set up a chair and just hung out, and smiled and waved to any rigs that rolled by. When they stopped I'd tell them hi, and ask if they knew where they were going, and have you been here before. Once the ice was broken, I'd them tell them who I was, explain our club adopts this road and today is our annual cleanup run. I must say it was pretty rewarding- everyone I spoke with was super cool (yes some just buzzed by...) and 2 of the folks were actually not sure where they were going at all. So they were pretty happy to have someone there handing them a map, telling them where to turn, where they can turn around, etc.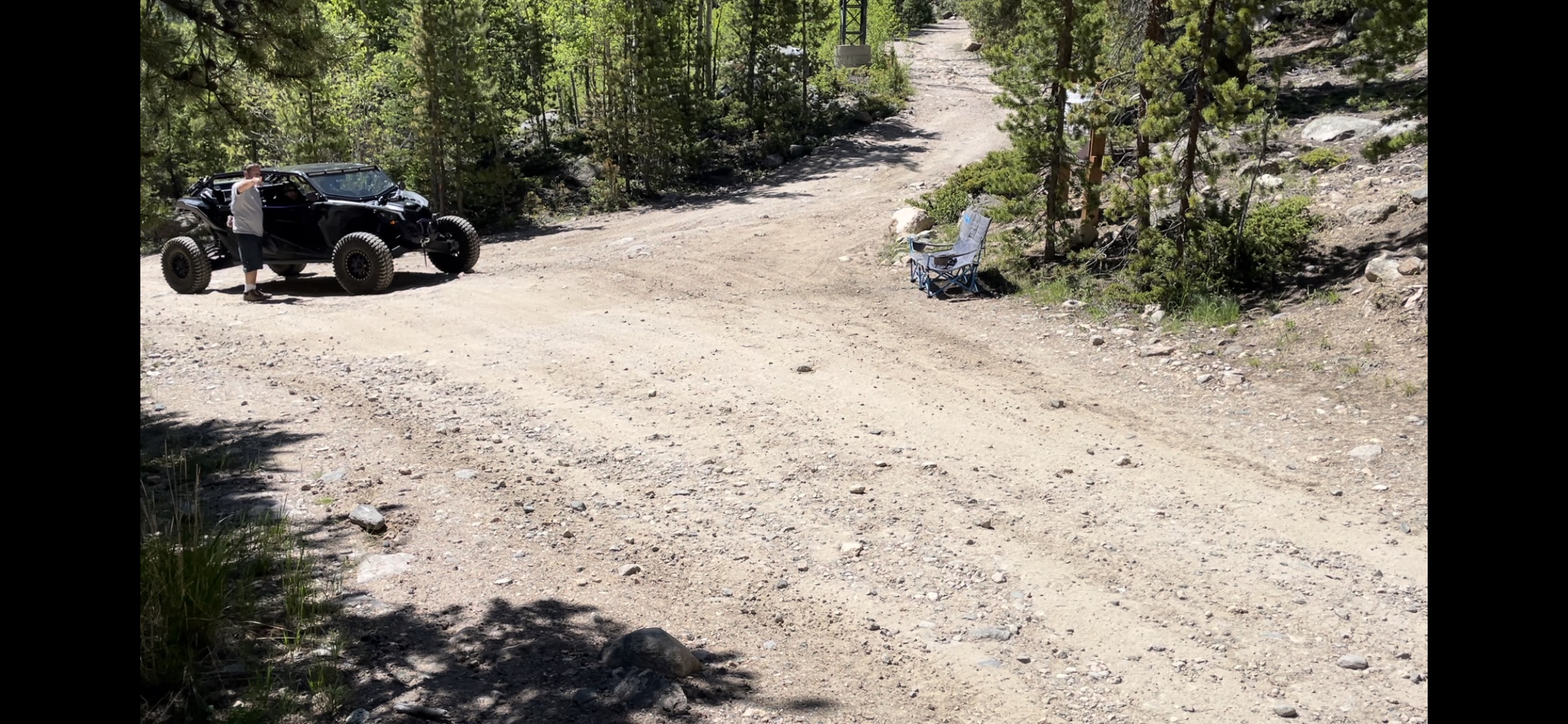 I would totally do that again. Maybe next time I can get someone else to hang with me, possibly tag team it, or just play guitars, etc. If nothing else, doing this really sent a message to folks that this area is cared for & paid attention to, which I think raises everyone's game just a little bit. It felt like we made a really positive impact yesterday.
Last comment for all members- I took a first pass at the All Access spreadsheet but I'm sure I missed a few of you, so please take a look at this thread if you'd like to be included in that program:
https://risingsun4x4club.org/xf/threads/2023-all-access-members.34582/