Joined

Aug 24, 2005
Messages

6,254
Location
The 2021 spooky night run saw a beautiful day lead into a beautiful evening. We met at the clear Creek Ranger District parking lot. Early arrivals participated in a Hi Lift 101 class and left with all fingers and toes intact. We had 10 rigs on the trail. plenty of couples, kids, and dogs.
We aired down in the parking lot for the 10 minute low speed drive up the pavement to the dirt turn off. While airing down we noticed a built white 80 on the parking lot one over closer to I-25. Sarah walked over to see if the owner was part of our group. Paul, from Colorado Springs, was on his way home but it did not take much convincing to get him to throw those plans out the window and come wheeling!
The trail is a stem and loop type. We drove the loop counter clockwise to enjoy most of the driving before the dinner and campfire, and have a shorter drive back out afterwards. The trail was a little rougher than last time I was up there. We had to negotiate large moguls and a couple of tight turns. I only took the group down one wrong turn but that gave us a chance to explore a dead end spur and practice coordinated turn-arounds in tight trees.
At times it seems like there was more dogs than people, but all were really well behaved from Jack the 120 pound German Shepherd to Mildred the four month old 10 pound puppy.
We didn't do a potluck but Mike and Emily treated us all to an endless supply of chocolate chip cookies. They were gluten and dairy free but absolutely delicious as they seemed to have plenty of sugar and coconut butter.
Conditions allowed us to enjoy a campfire in an established fire ring and as much as I hate to Dallas a perfectly good fire we left it as cold charcoal soup.
The drive back out to the highway was long enough for everybody to test out the off-road lights and we must've made a pretty good sight to anybody looking from a distance. We saw one other vehicle up there the entire evening, and it was a Tundra.
Spooky night runs are great Rising Sun tradition. I didn't take too many pictures last night so here's one from my very first spooky night run in 2002 that's me in the red jacket in the middle. If you've camped match with me you also know those green and white chairs at the bottom are still with me in fact we sat in them last night. Finally bottom left is my mom giving my baby nephew some food. He's getting married next summer!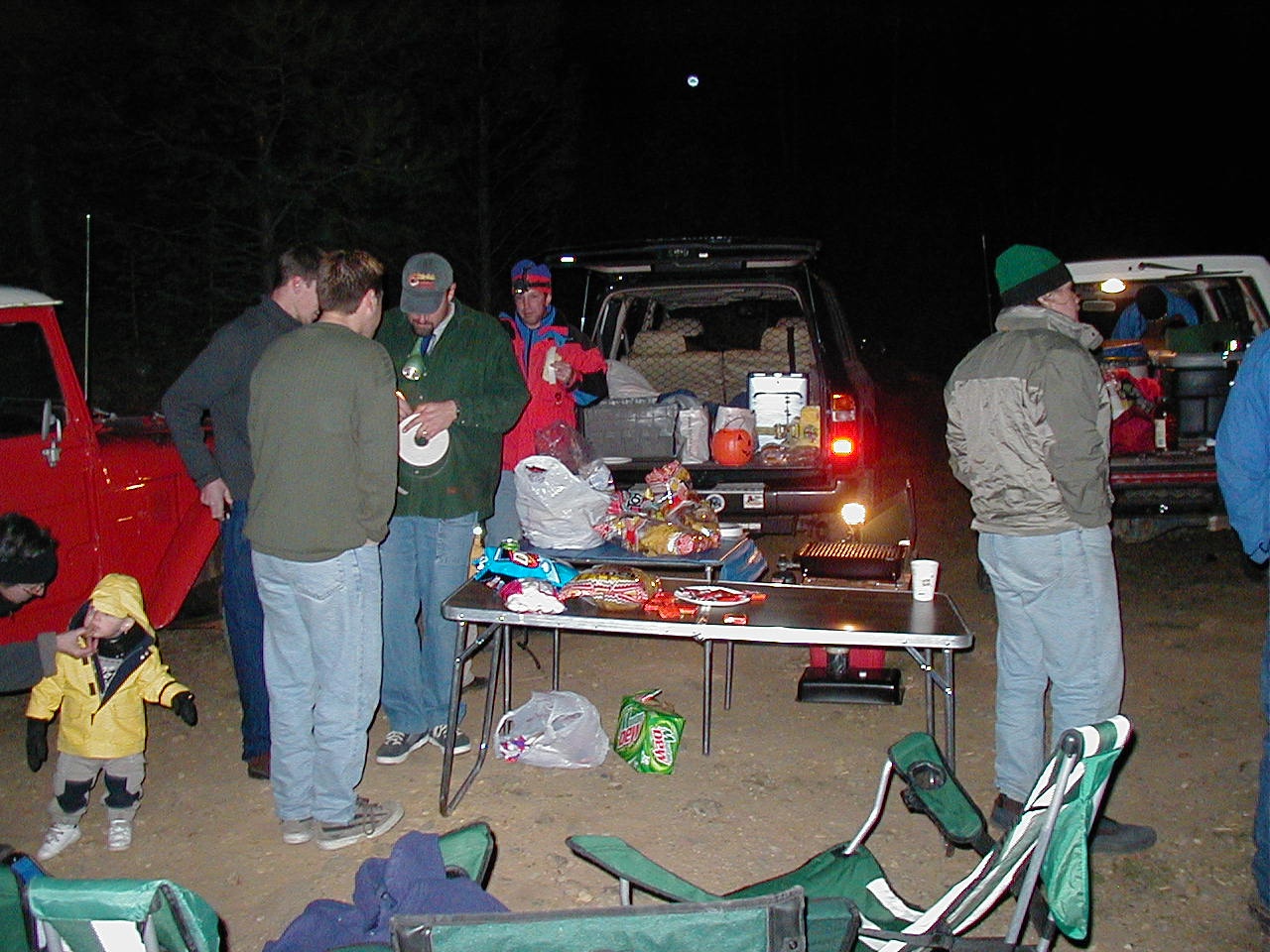 Last edited: