Joined

May 4, 2019
Messages

309
Okay posting up my first trip report here. I may edit this later its going to be pretty quick and dirty. Wanted to throw some info up for the other group headed out there this week. I may come back and add some additional info later.
Day 1 - Monroe Hot Springs & The Squeeze
I always like to push hard on the first day and we had a big itinerary. Vehicle was packed the previous night sans water so it was pretty easy to get on the road once coffee was made. We made a hard push and left Silverthorne at 4:00am to make it to Monroe UT around 11:00. Gave me a good hour to go for a jog with the dog to tire him out before we hit the Mystic hot springs. This had been on my fiancé's bucket list for a while and we had an absolutely awesome time. They have covid restrictions in place so its almost like you have the spot to yourselves.
https://mystichotsprings.com/
Always a great day when you get to brush snow of your vehicle and then enjoy 65 degree weather in the afternoon. We did this trip last year and got in a half day skiing at Copper before camping in Moab that night.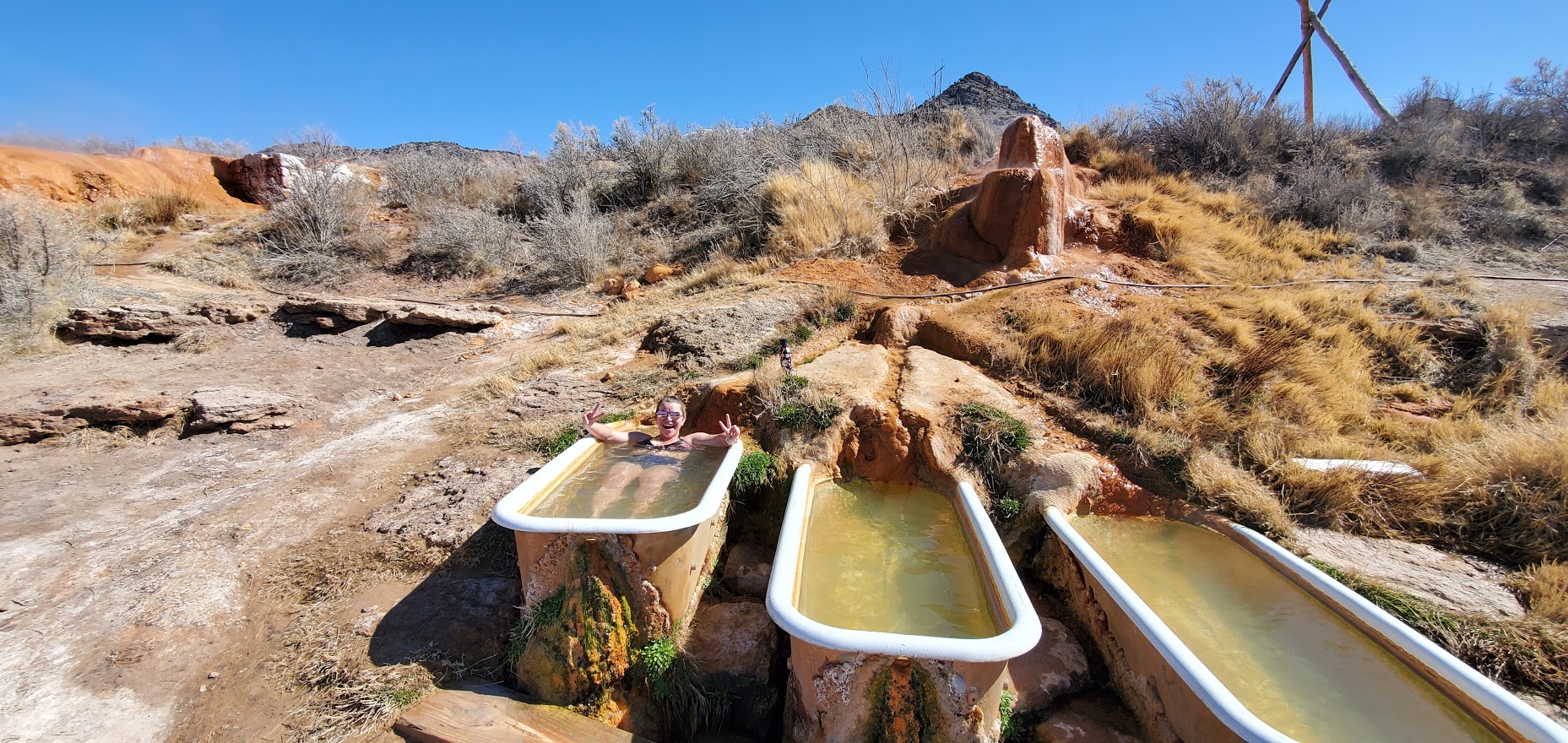 After the hot springs we grabbed a burger at a local place called Bullies. I am a sucker for small town burger shacks. After that it was a quick gas up and then we headed back to the southern half of the Swell. We headed in via temple mountain road and made our way towards the crack canyon trailhead. We did not bring any GPS (well we had but did not use) on this trip. Sometimes its just more fun looking at physical maps trying to figure out where you are. Adds to the sense of adventure. At some point we turned off temple mountain and started heading east. I may go back and try to plot this out on a map but I was not navigating at this point just driving in the direction I was told. I believe we went through a trail called "the squeeze" which dumped us out near the Little Wildhorse trailhead. We then started looking for camping and found a nice spot near crack. Behind the Reef Road was a fun little detour while looking for camping. Nice opportunity to test out the new suspension.
I did make a very slight driver error going through the squeeze. That spot is tight!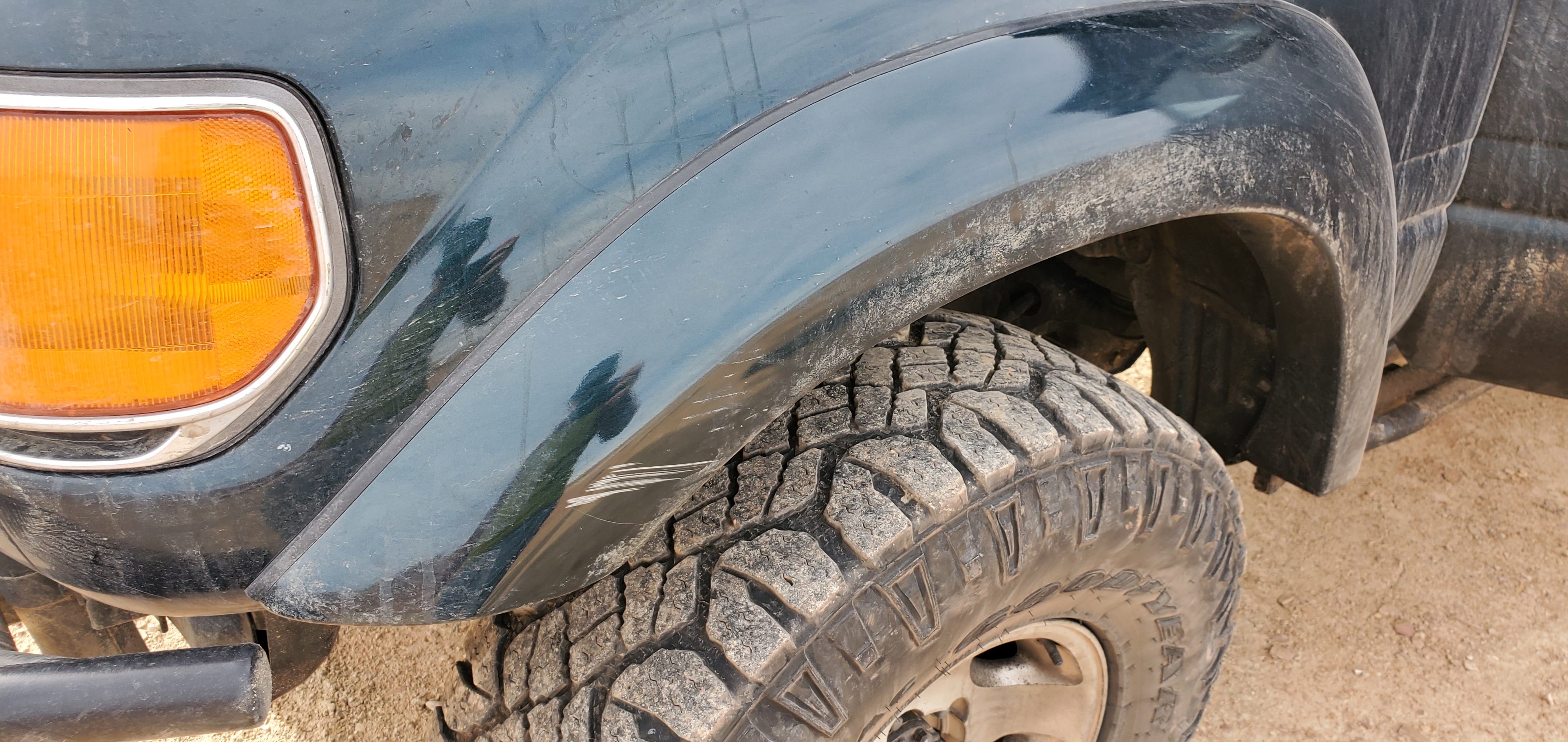 It was so nice to have a fire after the extended ban in CO last year.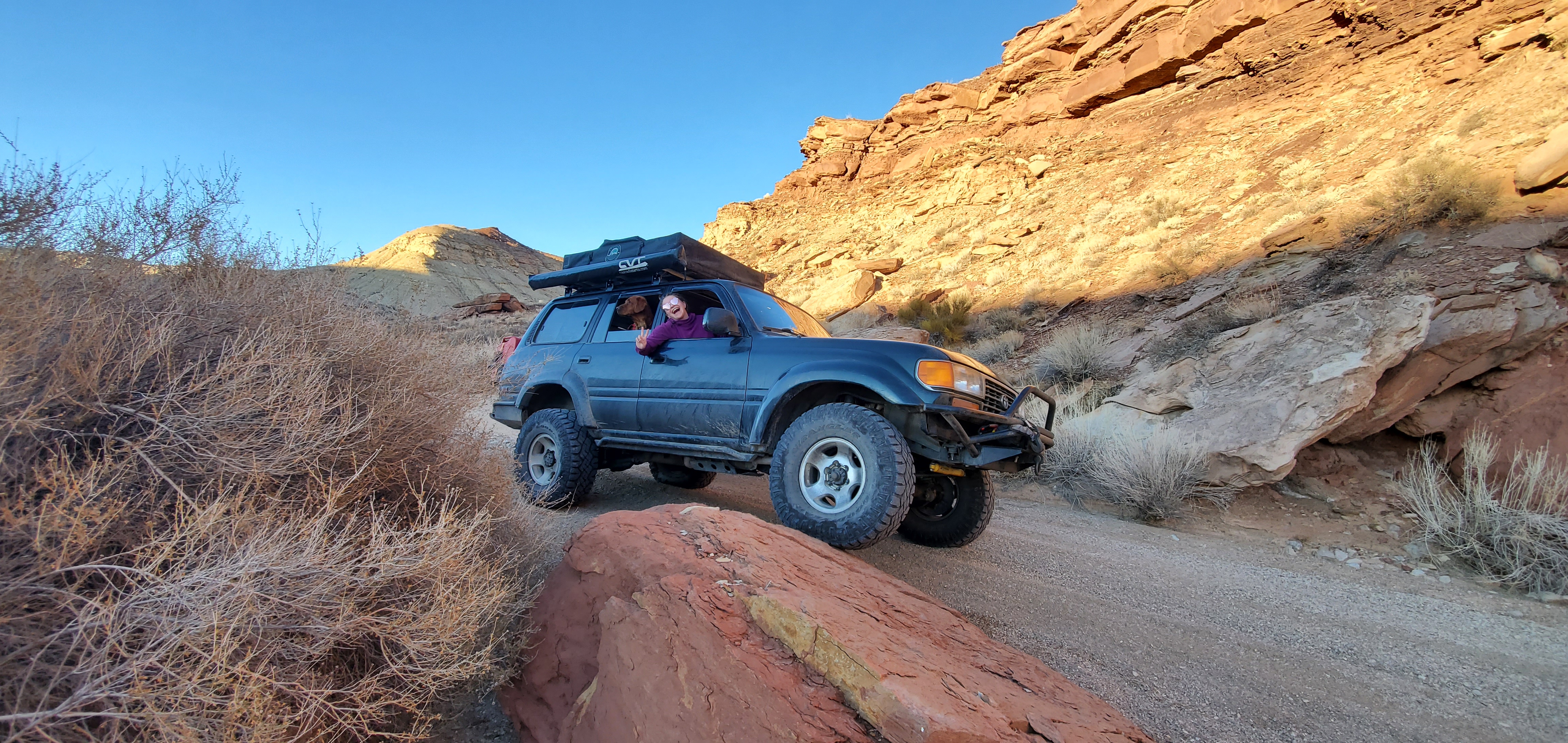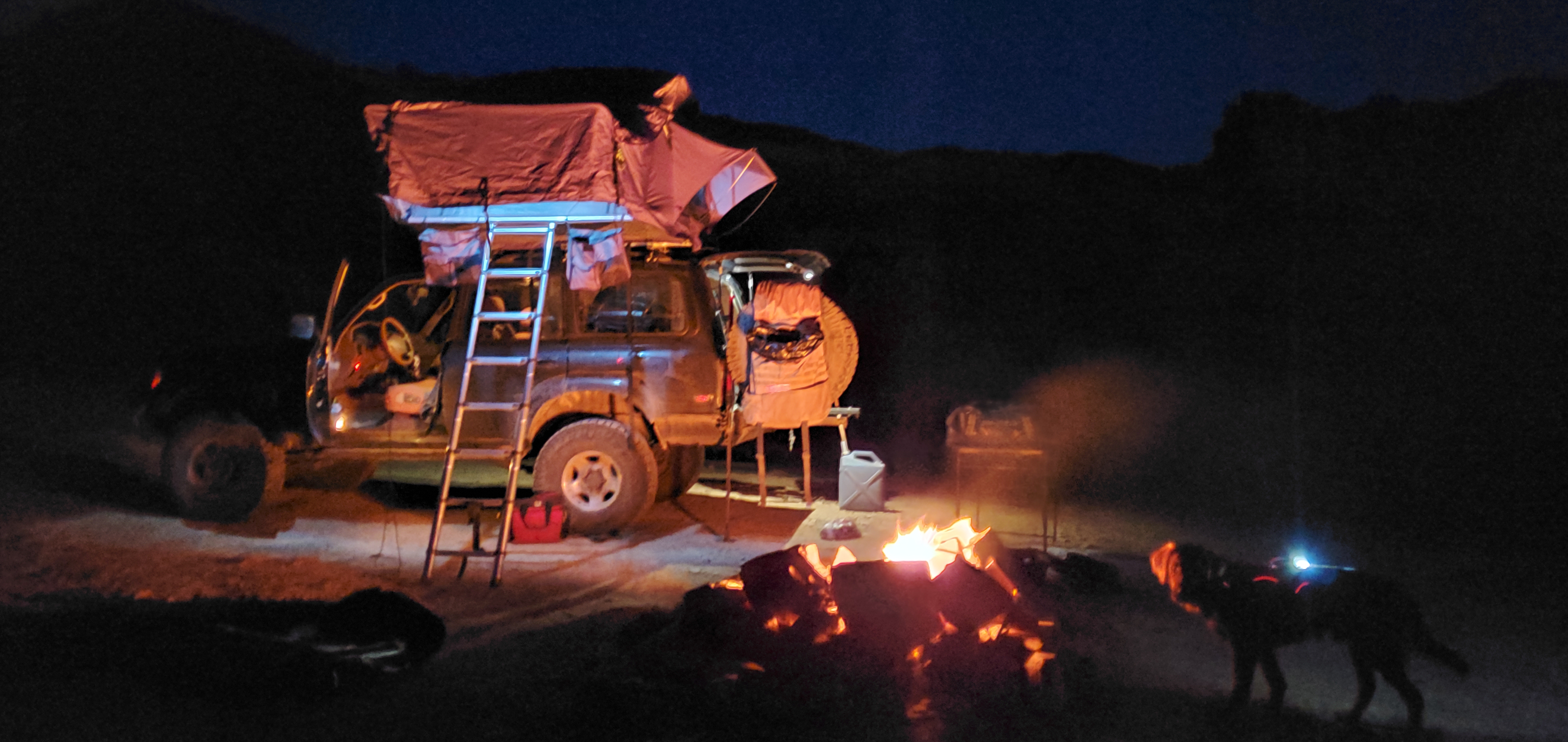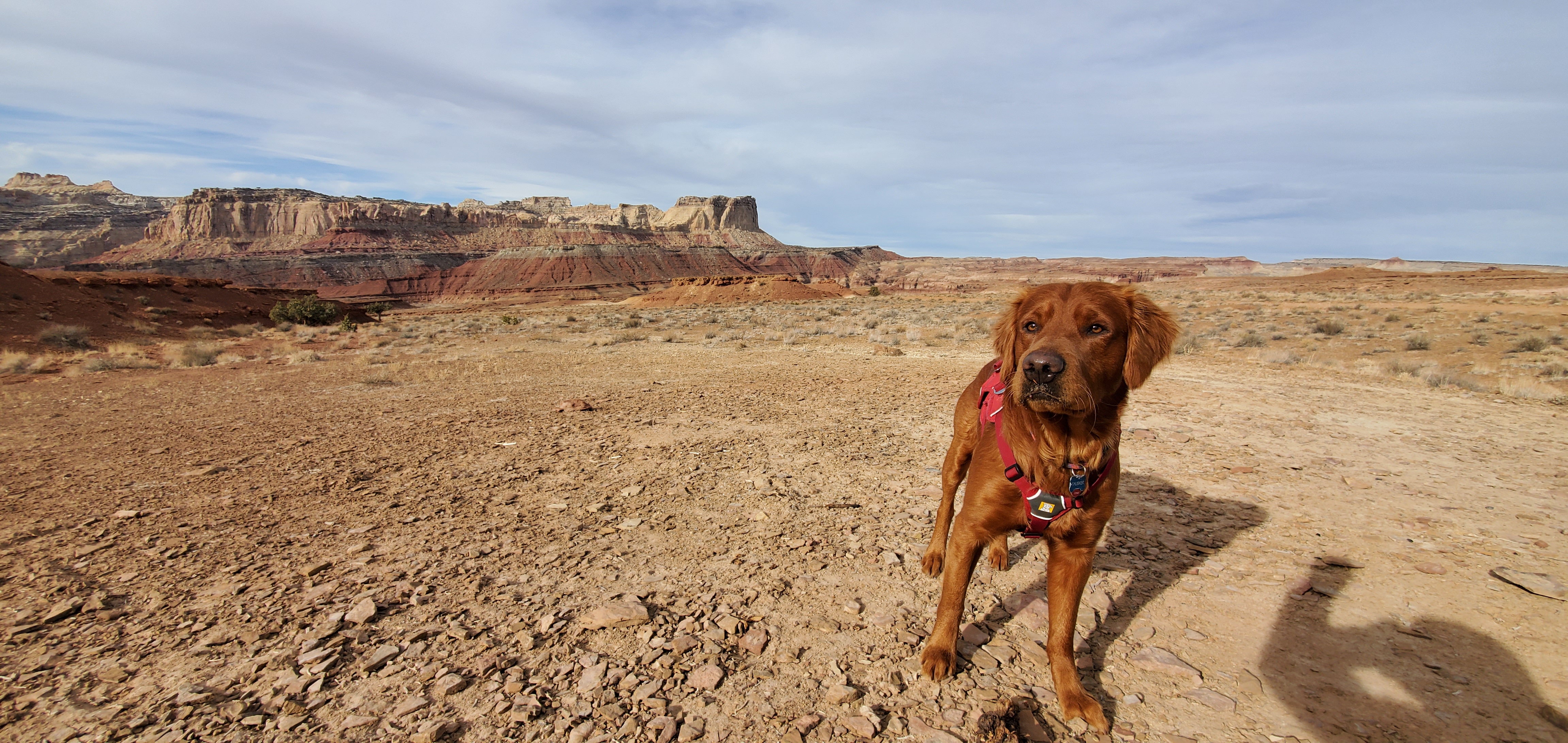 Day Two - Crack Canyon and a Drive to Ding and Dang.
Day two started with a lazy morning. We packed camp and drove over to the Crack Canyon trailhead. Other than one large group (about 35x people) traffic volume was pretty low. We had not see another person or vehicle since we left I70 the day prior. Crack Canyon was very impressive for how easy the access is. I have been through so many slot canyons now I can be a little hard to impress, but Crack did not disappoint.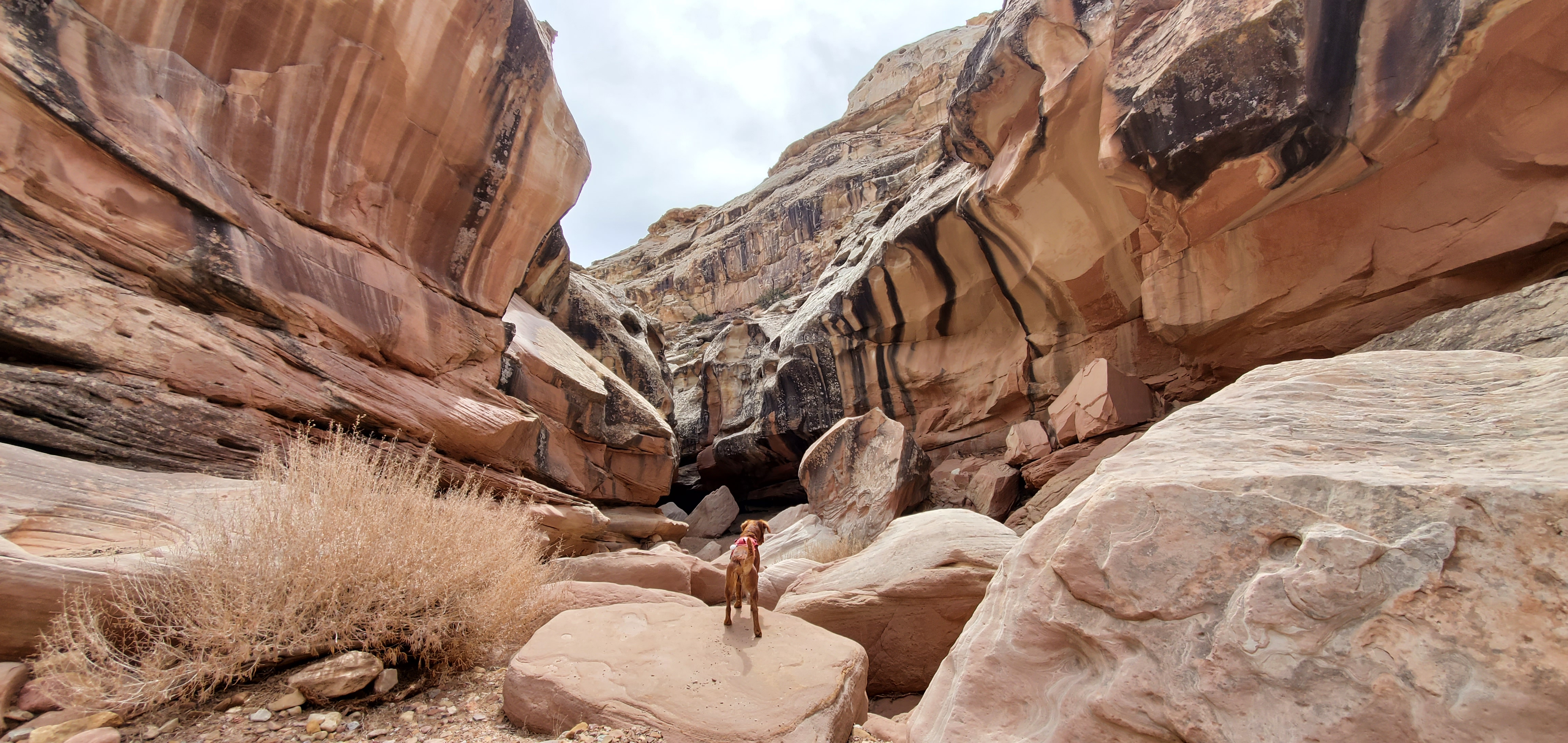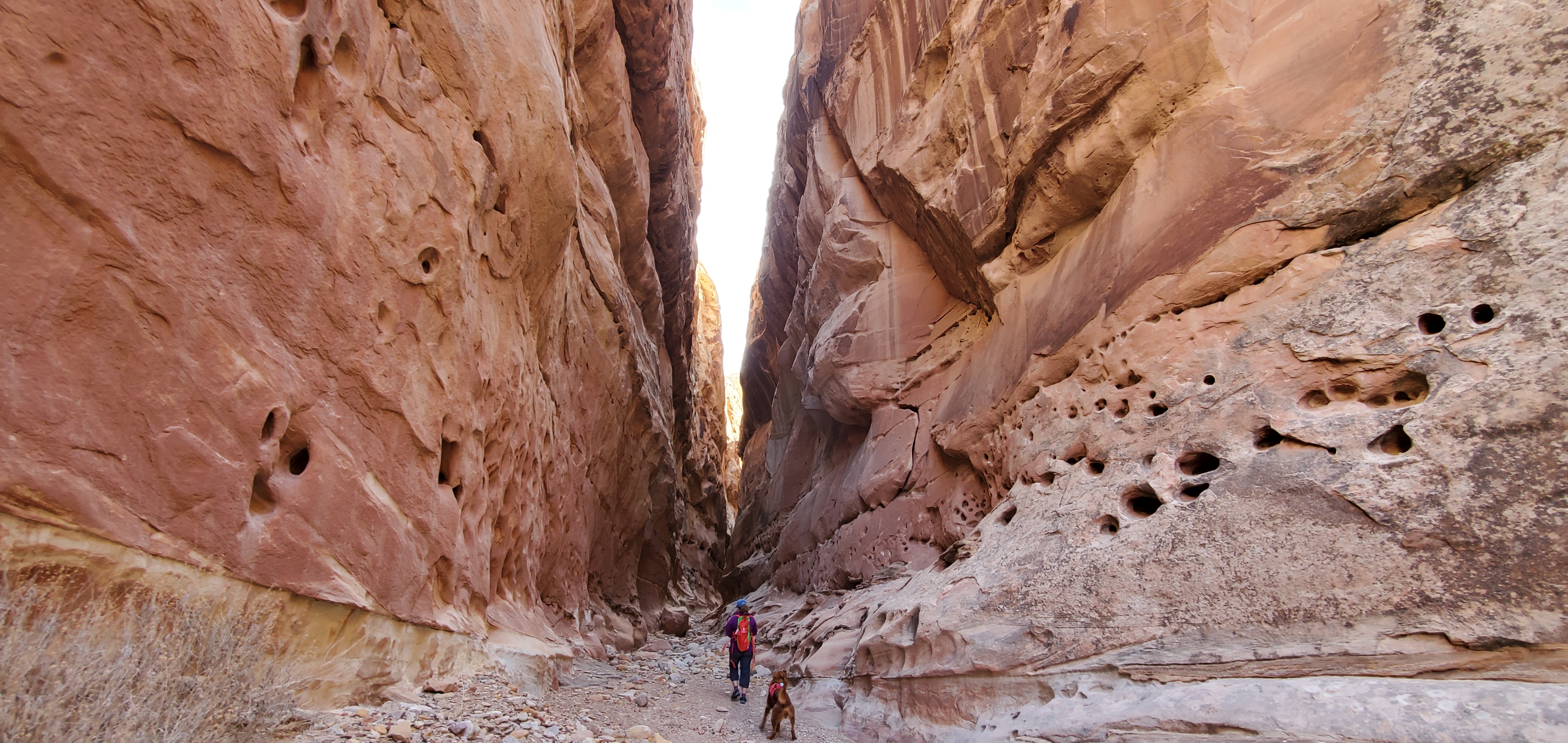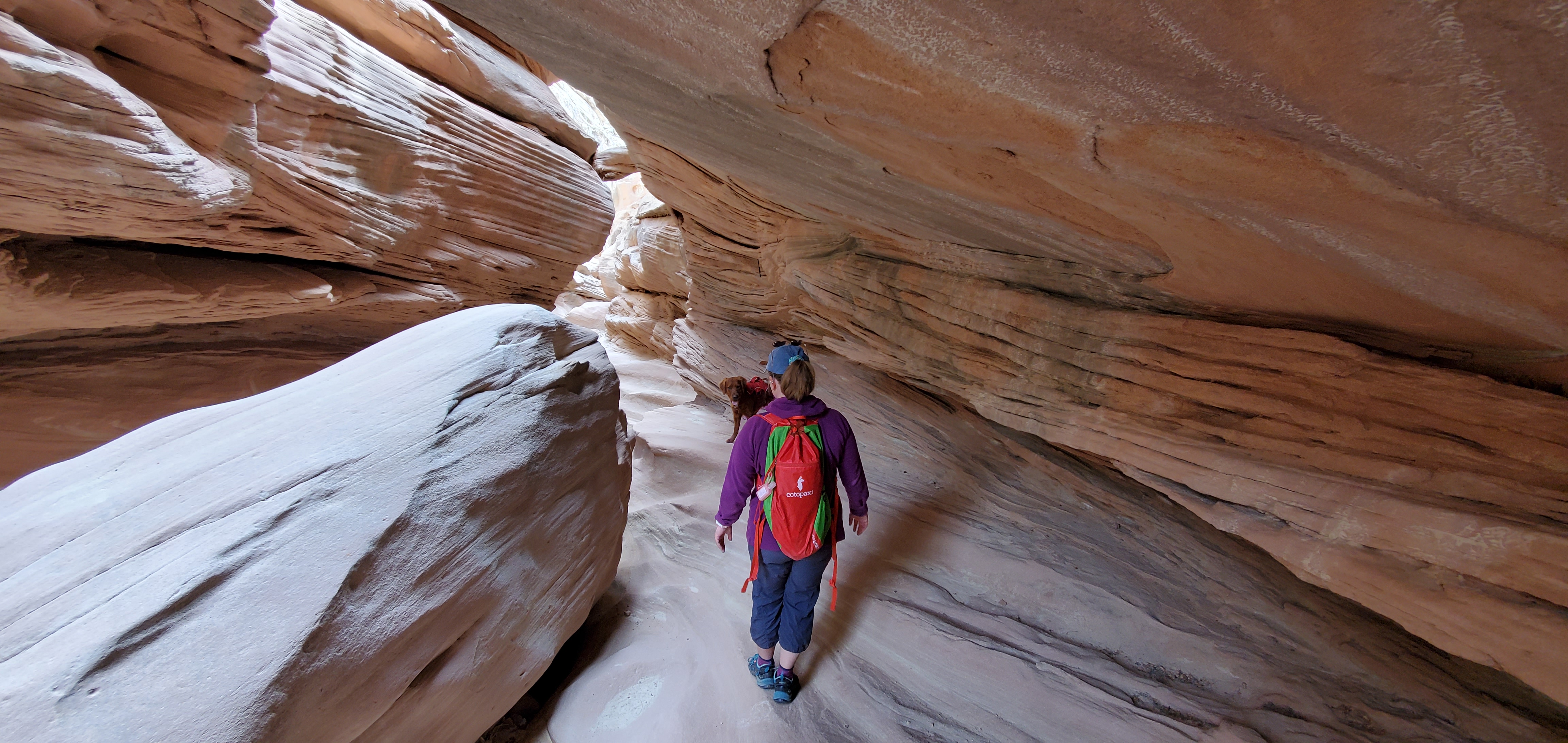 After we finished Crack we decided to head over to the other side of the southern swell to find some different camping. Lots of folks and RV's around Goblin but the further you go the less people there are. We found a nice spot in a small wash right off the road by the Ding and Dang trailhead. We set camp around 6 and only one or two other vehicles passed after that.
Day 3 - no Ding and Dang, Drive to the Wedge Overlook
Day 3 started with a proper breakfast of bacon, pancakes, and eggs. Once we were full we headed over to start Ding and Dang. We got about a mile in and I started to notice blood on the rocks ahead of me. Sure enough it looked like the dog had scuffed up one of his pads and ground down a few claws enough that they were bleeding. He is a tough little guy and wanted to keep going but the idea of carrying a dog with bad feed through a slot canyon was not very exciting so we called it early and headed back to the truck.
Since we had come in from Monroe there was a long highway stretch before we hit dirt. We were getting a little low on fuel and didn't want to chance it so we made a very quick trip into Green River and then were back on the road to check out the northern part of the Swell. We took the standard road up to the Wedge Overlook and stopped on the way to check out some of the fantastic rock art. Some of this art is around 2000 years old and it was interesting to see that Batman may predate Jesus.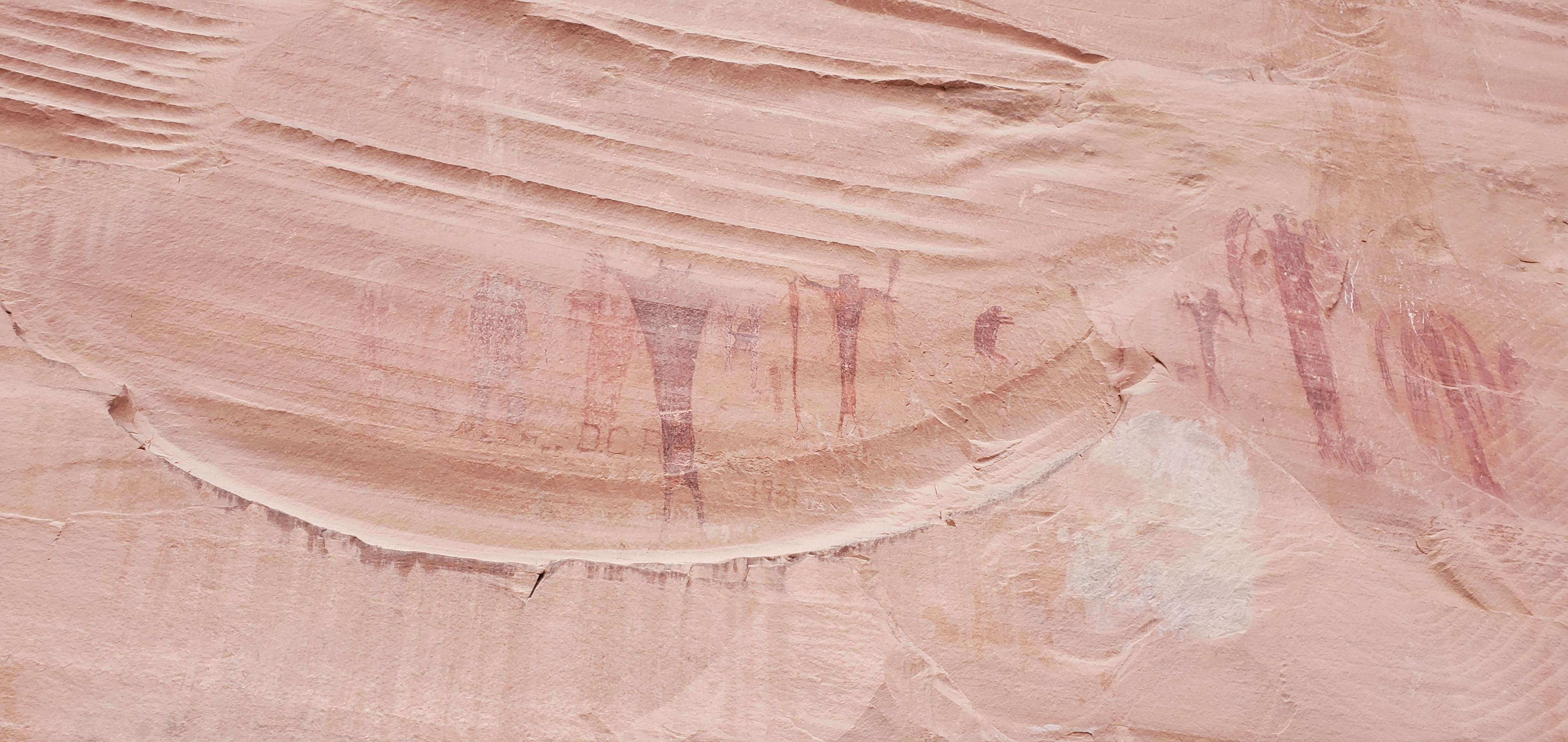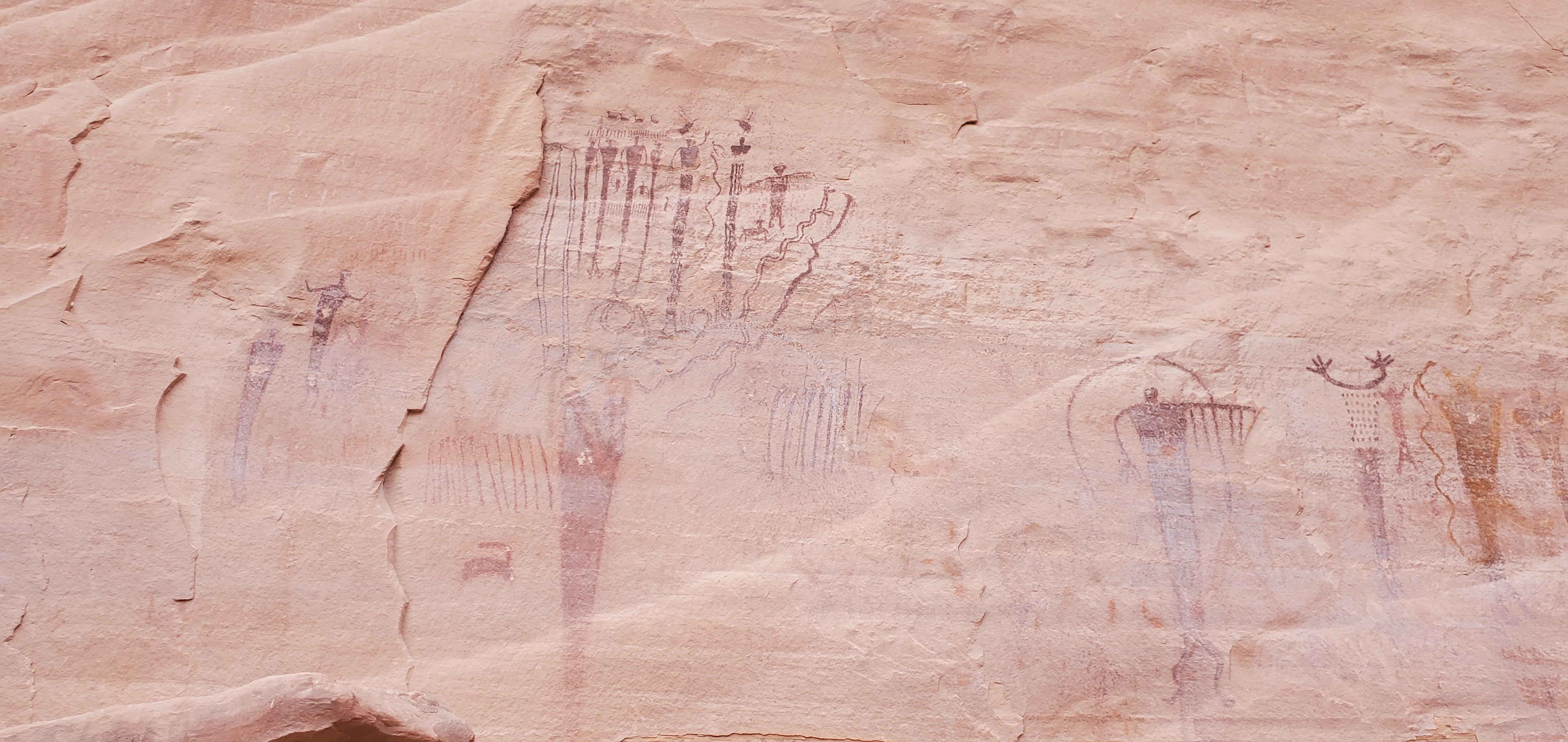 Day 3 ended with us finding a good camp spot up on the rim. A bit windy but it quickly died down after sunset.
Day 4 - Some climbing, Black Dragon, and the drive home.
Our last day began with a less than stellar but still worthwhile sunrise. Clouds coverage unfortunately obscured things and we were not in the best spot to see the full canyon. Amber did find a rusted out jeep that had rolled down off the rim many years ago. Binoculars are an awesome addition to any camping kit. I really enjoy sipping coffee and studying the area in the mornings.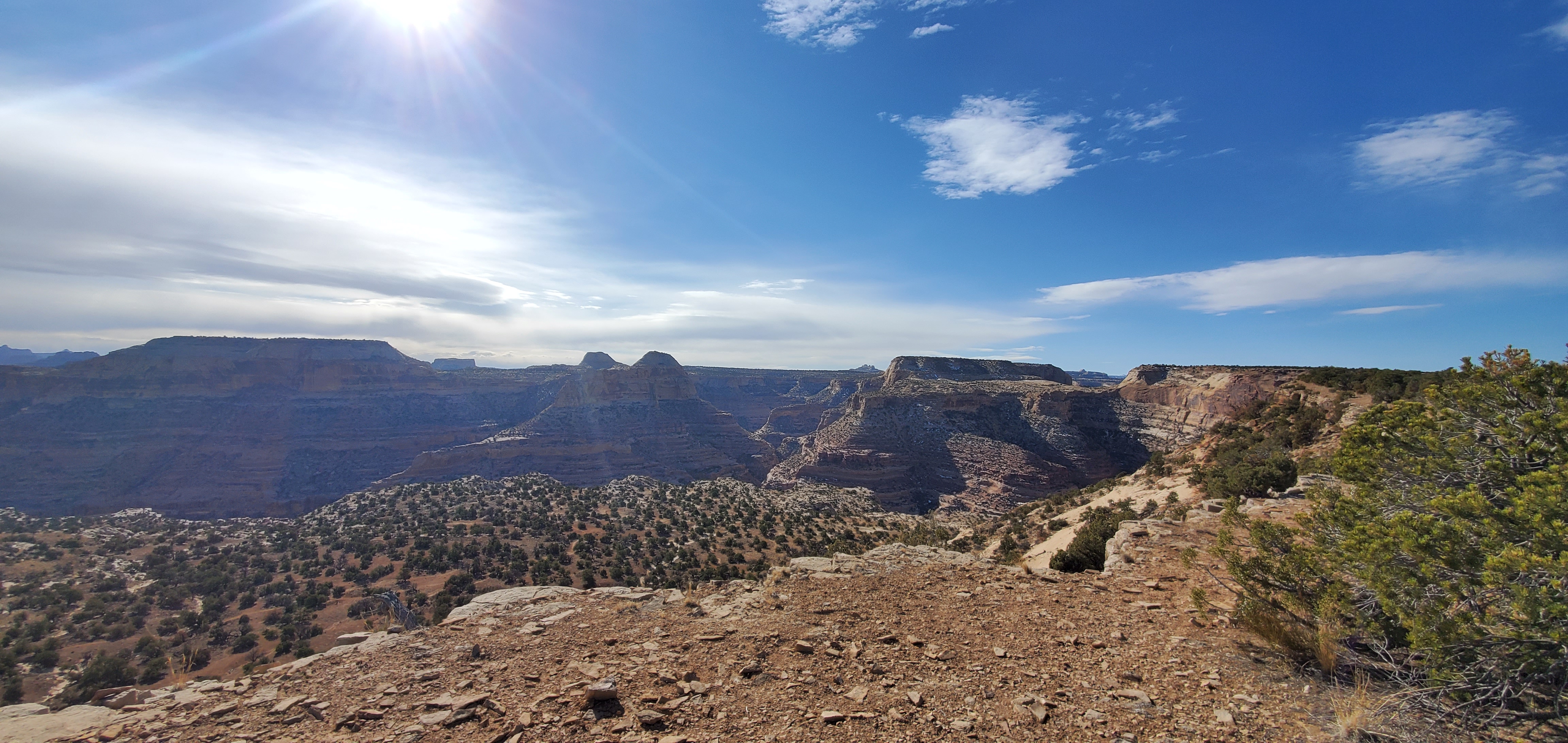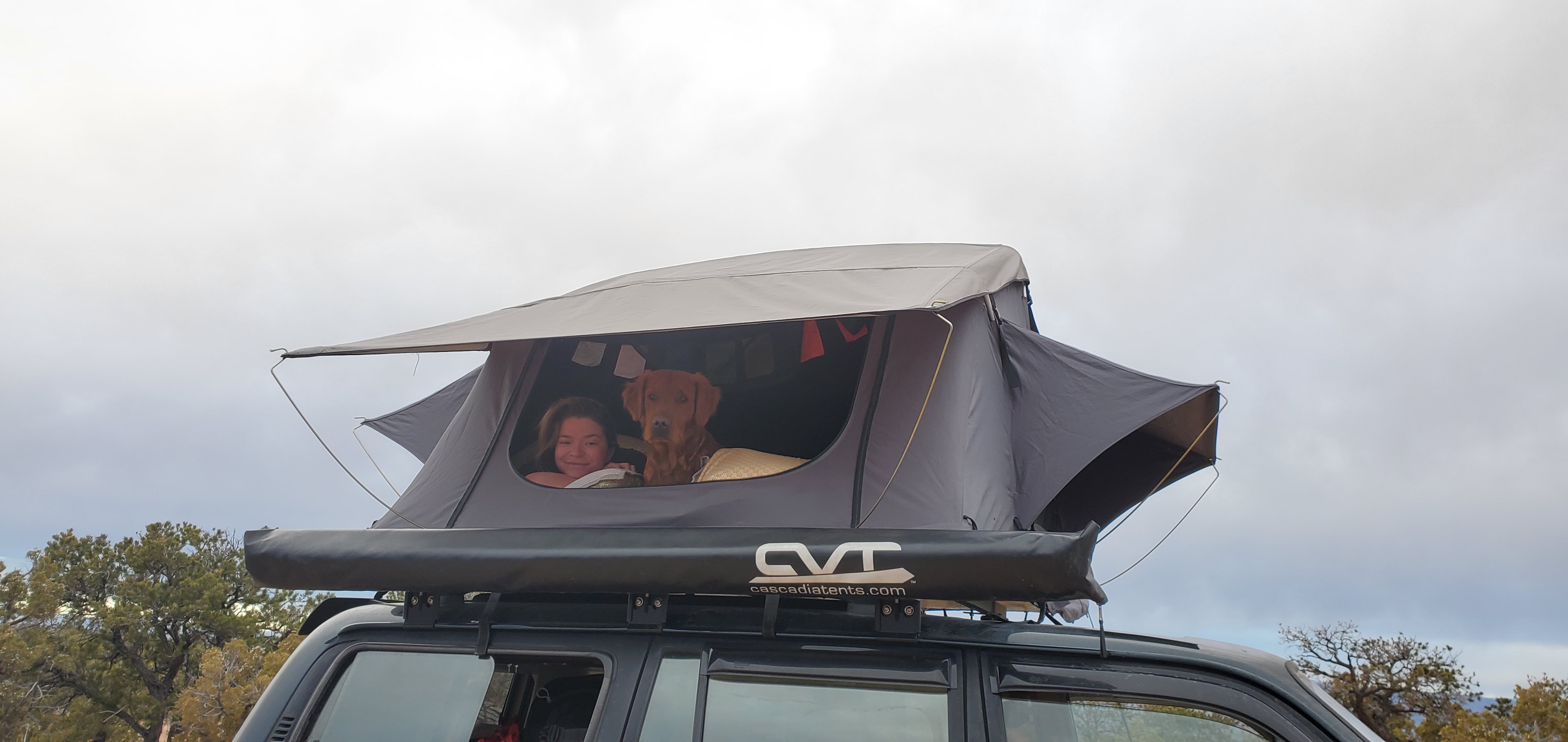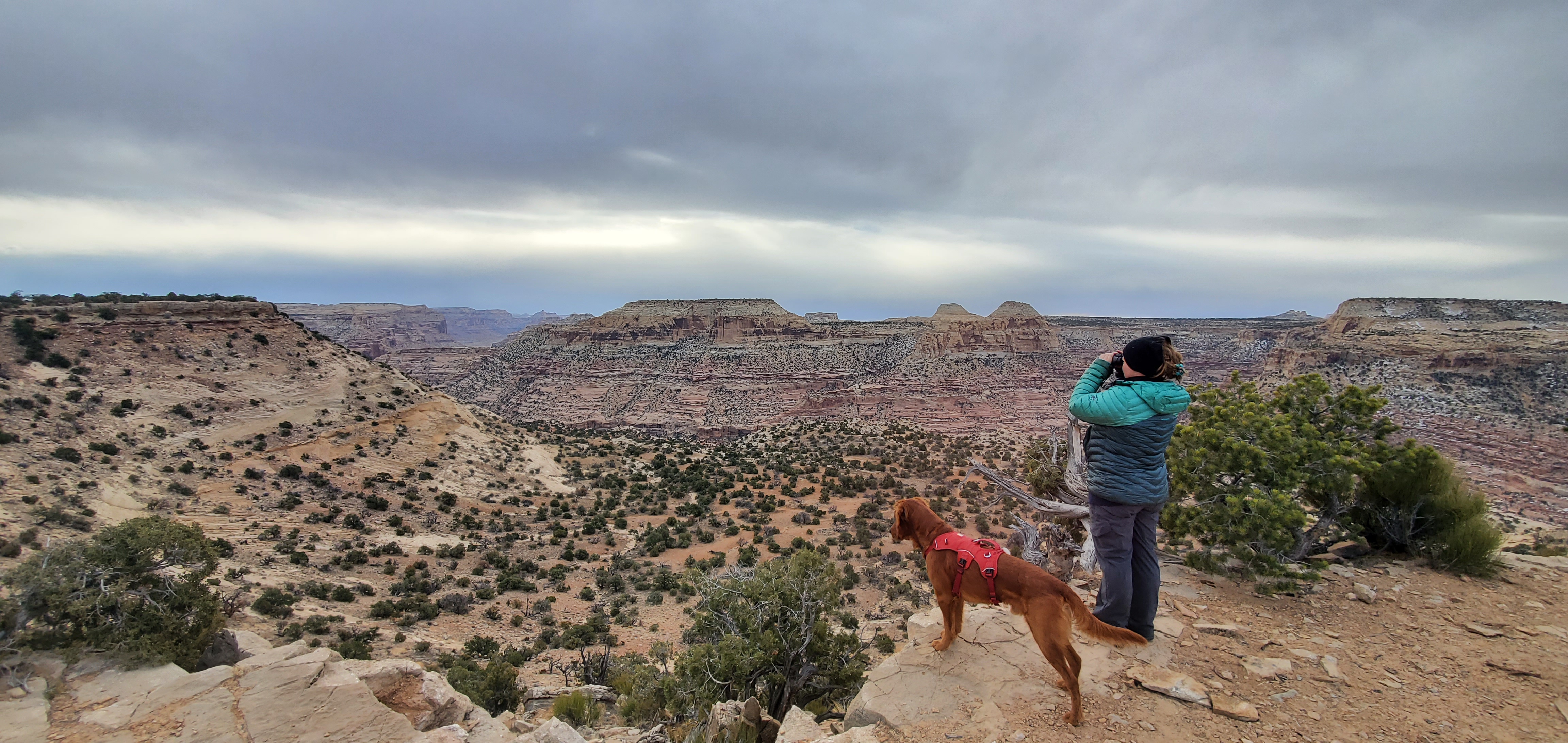 After a quick breakfast we packed up and headed back down into the canyon for some climbing. There is a great spot midway through named the Chiefland Slabs. A few trad routes but mostly sport ranging from 5.6 to 5.13. We got a few routes in before the sun was too much and we wanted to move on.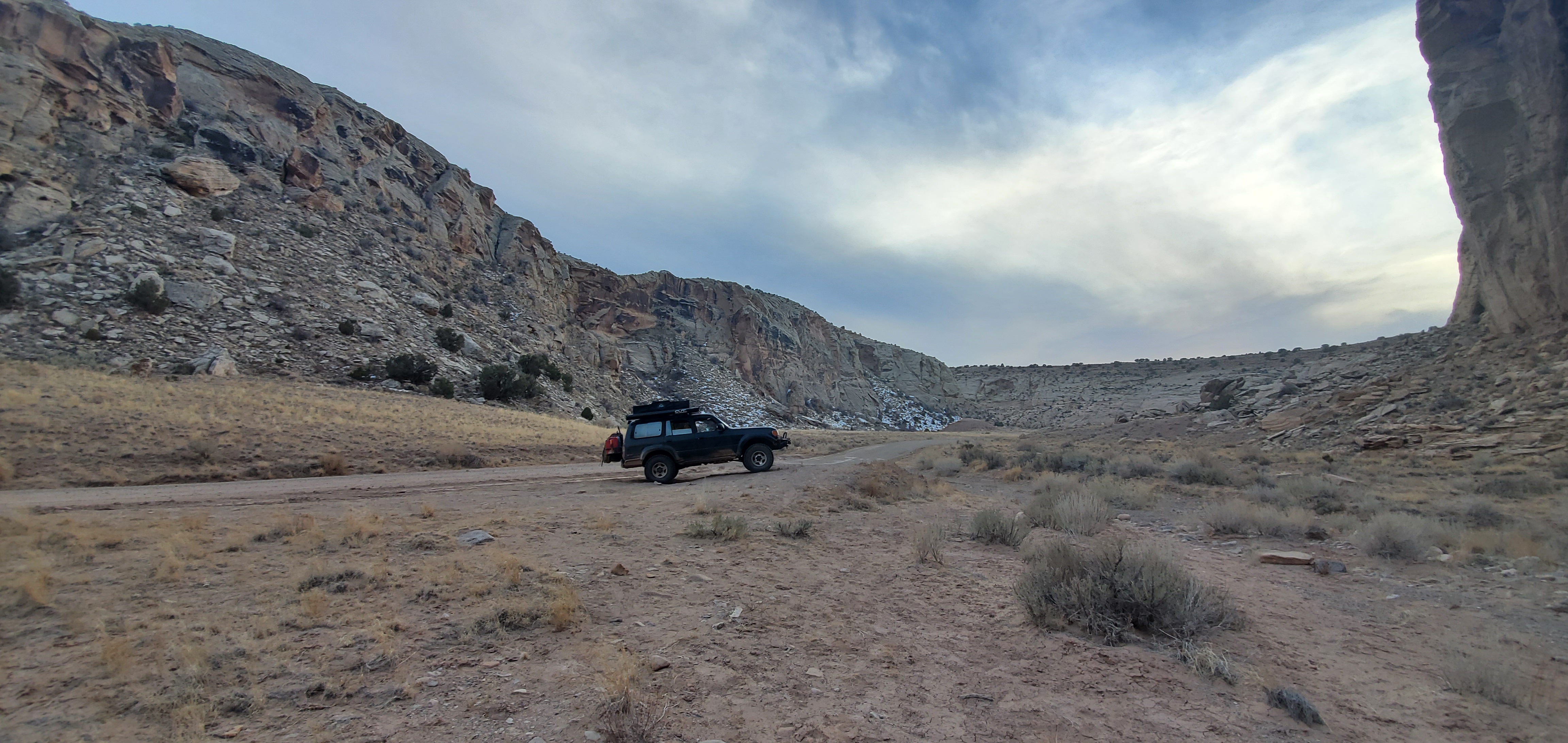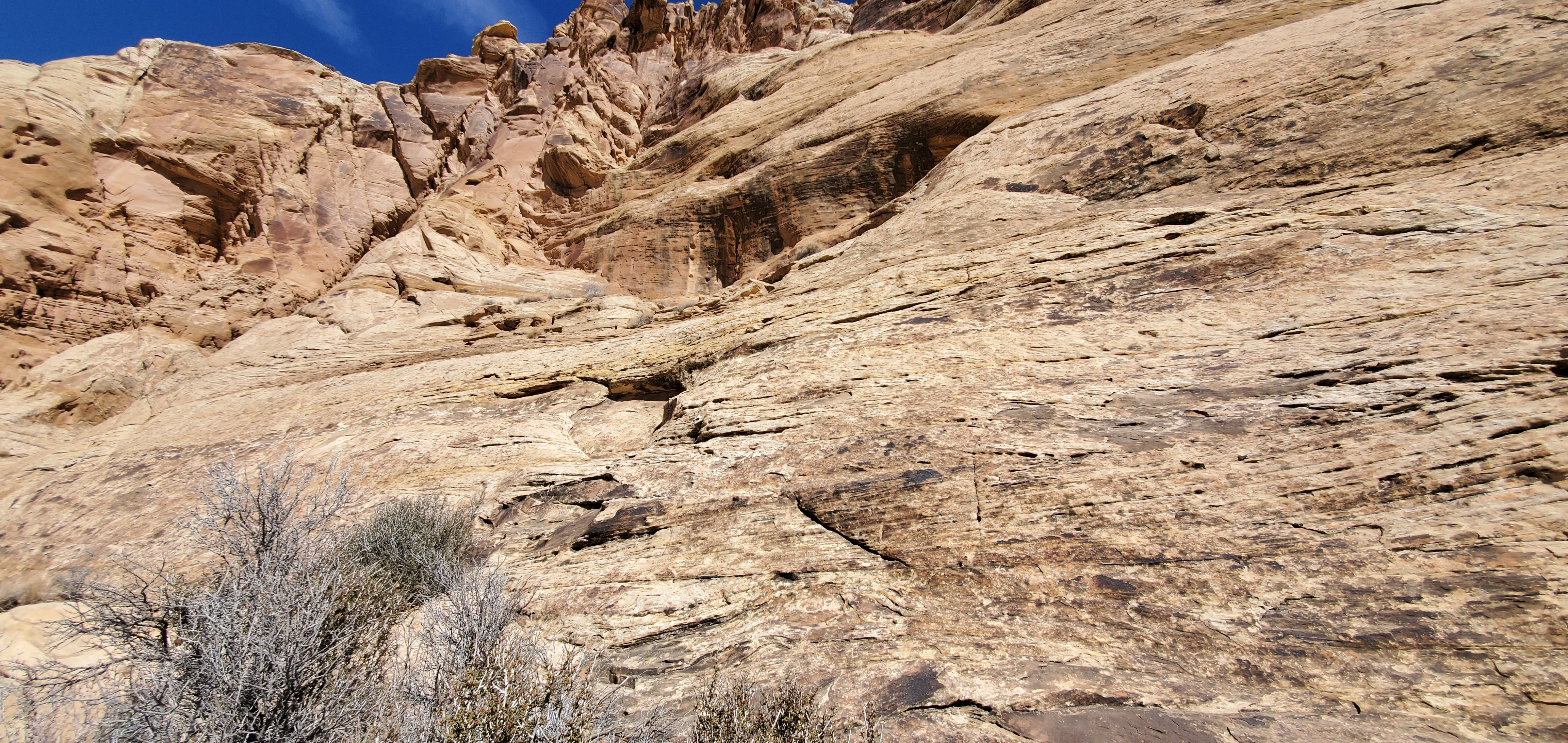 Amber wanted to check out Black Dragon so we planned a route out that way and then back to 70. Black Dragon was a great time, good 4wd road with some awesome scenery and some additional rock art. The 80 performed great on this trip but had some issues once it started getting hot. My throttle cable has been in bad shape for a while and started to get really sticky that day. I also had an issue with the PS pump overheating. It started to whine pretty bad and eventually I lost power steering. Had to stop a few times for a brief cooldown. The fluid did smell rather burnt so I am going to try replacing that before messing with the pump. Throttle cable is just old and corroded. I have a new one sitting on the shelf and need to get that installed soon.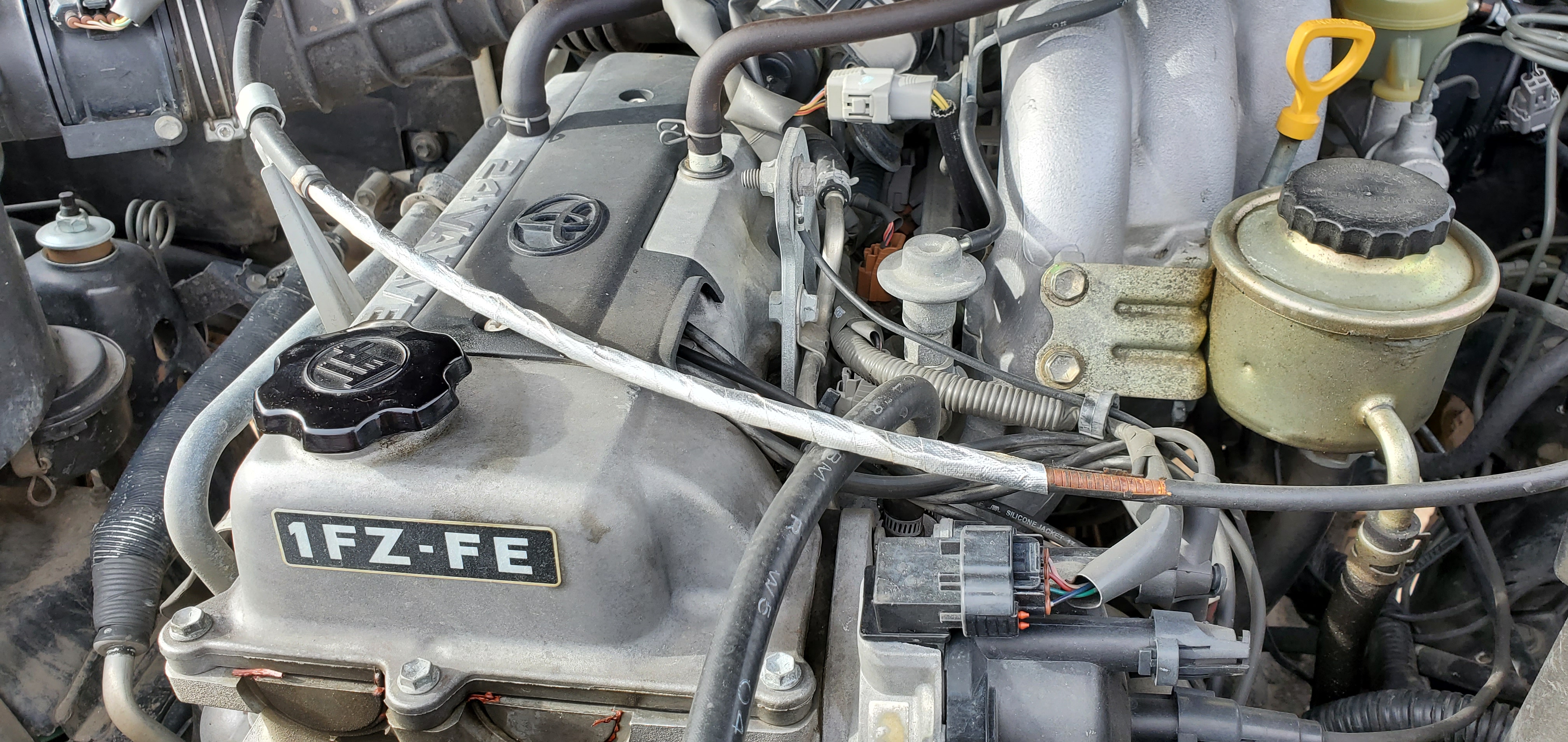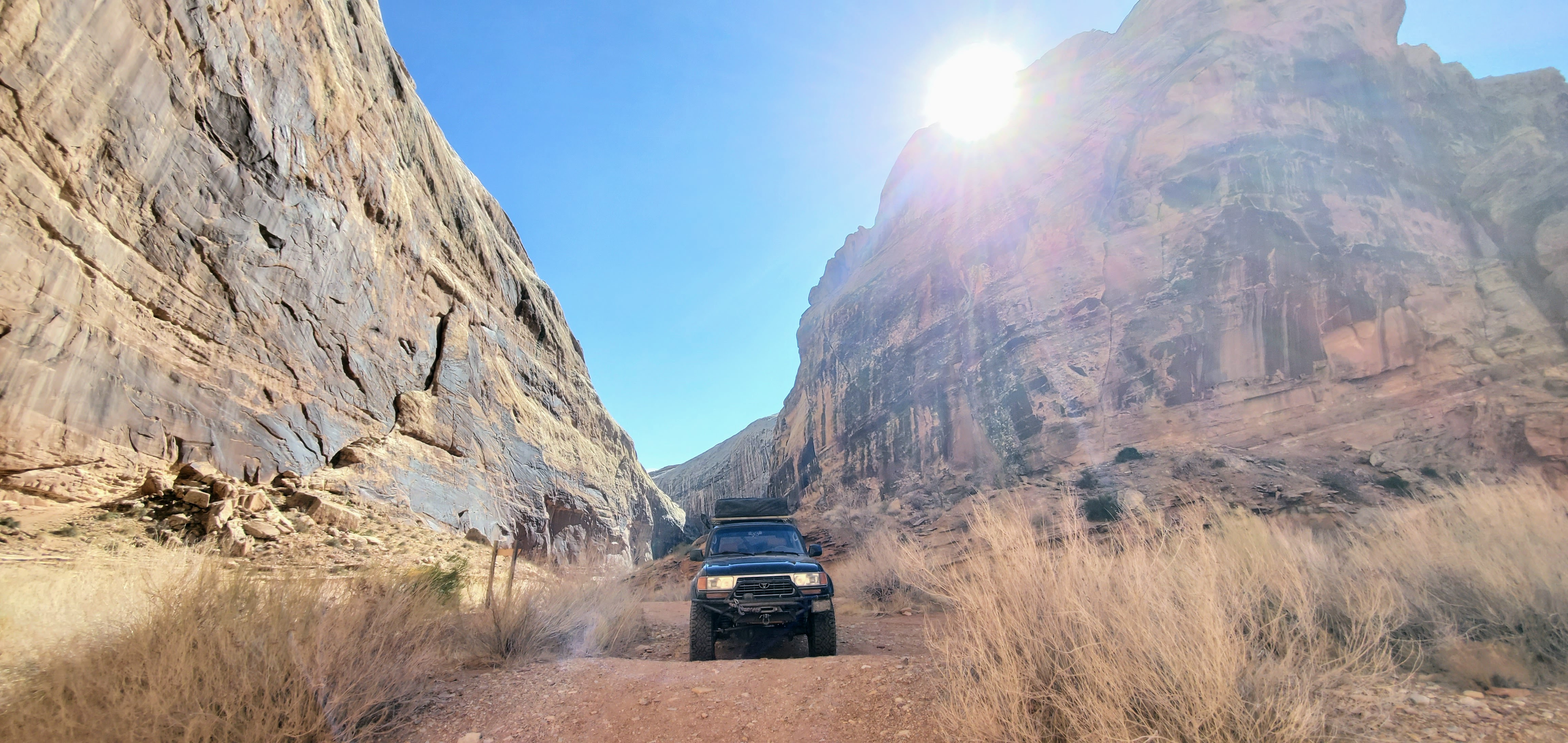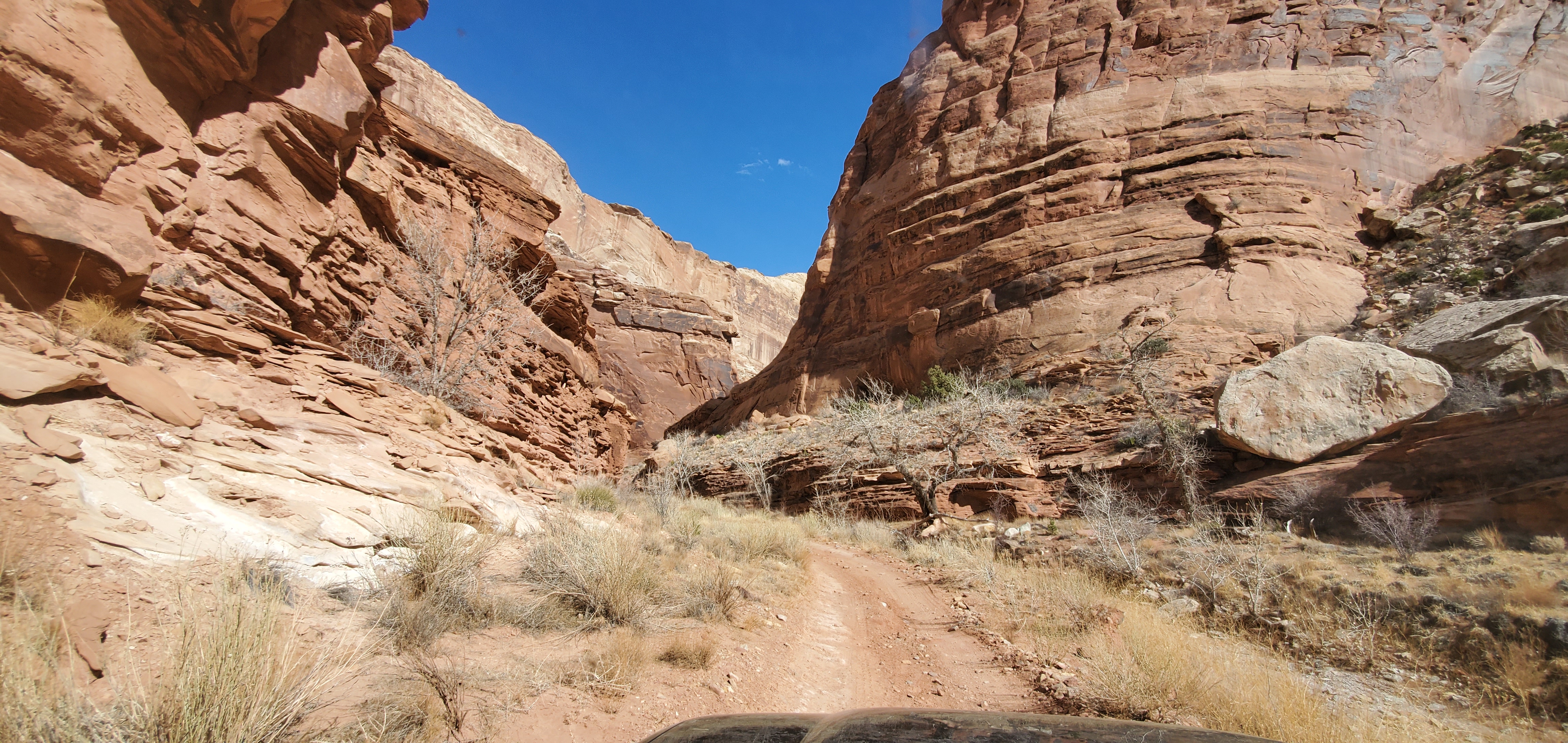 Once we came out of the canyon we took the long road back to the highway and stated our trip home. We did see a few free range burros on our way out.
Overall conditions were fantastic. We really need to get back out that direction for a much longer trip to check out the rest of the area. Very little mud and snow only in rather shaded areas.
I did not mention earlier I also bent my front sway bar bracket when one of my disconnects came loose on the sketchy downhill section of Behind the Reef Road. I really love the LCP disconnect but have found that you MUST disconnect it before wheeling or the clevis pins will work themselves loose. Driver side bracket has a good bend so that is also on the fix it soon list along with the throttle cable.
Hope the next group headed out there has an awesome time! We certainly enjoyed it.