This is where I'll document my on-board air project. I was going to try and sneak it in with my power steering project, but my red truck pooped out as I was buttoning that one up, so this one had to be put on hold for a little while. Longer than I would have liked, but oh well.
This morning I tried to get air to fill my tires back up, since I didn't air back up after the Argentine Cleanup Run. At $0.75 for 3 minutes with a low cfm compressor at the gas station, I almost got my rear 2 tires filled up before I gave up and went to work. Went to Discount during lunch and got topped off, but this is pretty much the last straw. I'm sick of not having on-board air, especially since we still live in an apartment and don't really have room for an air compressor.
I don't like the small 12V compressors because they're noisy, don't have high CFM, don't have a great duty cycle, and the better ones are pretty expensive. And you have to store them someplace when you're not using them.
I don't like Yorks because the typical York mount makes you move the alternator down to where the smog pump bracket is. I don't like that idea that my alternator could be submerged in a water crossing while my air compressor, which is not a necessary accessory, is happily dry at the top of the engine bay. I also wanted to try something different that I had heard about from Red Fox and maybe a couple others.
Hence, the Sanden compressor. Found as an A/C compressor in Volvos and possibly other vehicles, it has a slightly lower CFM as compared to Yorks, is tubular in shape which saves space, and the only "drawback" is that you have to add oil because it's designed to be lubricated by refrigerant like an Aisin compressor. But there's a port on the top that allows you to do that, so it just becomes part of pm. Let's give this a try:
First, here was a mockup of the setup while I was doing my power steering conversion: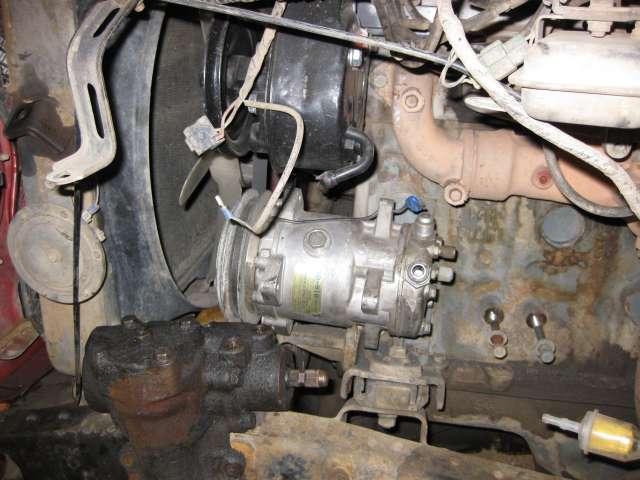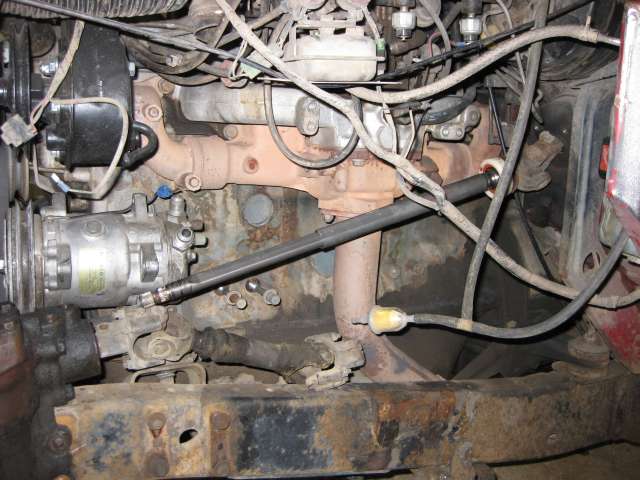 As you may be able to see, since I am not running a smog pump, I was thinking of using the smog pump bracket and tensioner as the foundation of my installation. This seems promising.
Now, the smog pump bracket is designed to fit 8mm bolts. The Sanden pump is designed to mount using 10mm bolts. So I went to McMaster-Carr and ordered a few sleeve bearings to make up the difference:
The tensioner has a bend in it to mount up to the smog pump. The mounting ears for the Sanden don't quite line up, but a little smithing to straighten the tensioner out and everything lines up nicely.
The mounting ears on the Sanden also don't exactly line up with the ears on the smog pump bracket, but a simple spacer from Ace Hardware (3/8" ID, 3/4" OD, 3/8" thick) will make up the difference:
I was thinking of using a really long 8mm bolt, but it would have to be M8 x 140mm or so to be long enough; not easy to find. So I'm thinking of just using a shorter M8 bolt for each ear. We'll see how this works.