The following are excerpts


from the Land Cruiser Mailing List....
Henry Cubillan wrote:

I wanted to commemorate Cruise Moab and the participation of members of the Land Cruiser Mailing List with a list of awards. If youíre not sure why your fellow listers are receiving these awards, ask them, there is a funny story behind ALL of them! :)

So, without further ado, here are the 2000 Cruise Moab Awards!:

BEST EXCUSE TO CUT IN LINE AT THE POT LUCK DINNER AWARD goes to...
Tom "I gotta Feed my Children" Boyd

BEST IMPERSONATION OF A FOREMAN AT AN ARTICHOKE FARM AWARD goes to...
Henry "My Migrant Workers are Lazy" Brimmer
---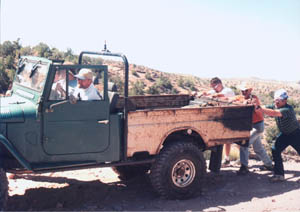 ---
BEST INTRODUCTION WHEN MEETING LISTERS AWARD goes to...
Tony "Dang Glad to Meet You" Twiddy
BEST EXCUSE TO BUY AN OFFROAD TRAILER AWARD goes to...
Adam "All my Raffle Prizes donít Fit in the Truck!" Tolman
NICEST LAND CRUISER TO BE WHEELED HARD AWARD goes to...
Gary "If you Look Right at it youíll go Blind" Bjork
BEST ATTITUDE IN THE FACE OF ADVERSITY AWARD goes to...
Deano "Weíll Make up for it at the Raffle" Kothe
---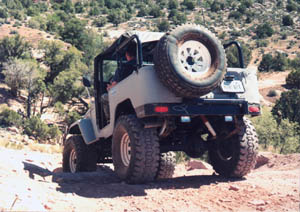 <
---
FASTEST TRAILSIDE BIRFIELD SWAP IN HISTORY AWARD goes to...
Mark "I even Wrench in my Sleep" Whatley
BEST SPOTTING ACROSS LANGUAGE BARRIERS AWARD goes to...
Kevin "Henry, Tell him to go SLOW!" Ehrlick
BEST IMPROVISATION OF A TRAIL REPAIR AWARD goes to...
Gary "Watch out for that Cutting Wheel!" Kardum
SCARIEST CAMP DIET AWARD goes to...
Ross "The British Army lived on Marmite" Lake
---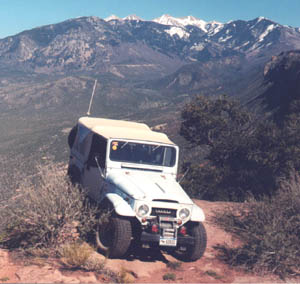 ---
CALMEST PASSENGER IN THE WORLD AWARD goes to...
Stephen "Itís not MY Cruiser" Accord
BEST TRAIL LEADING WHILE TEACHING A CLASS AWARD goes to...
Royal "Who said wheeling canít be Educational?" Rose
BEST FATHER AND SON TEAM AWARD goes to...
Steve "Our FJ40 is Stock and weíre Proud of it!" Syzdek and his father
MOST UNNERVING ACCESSORY IN A NICE CRUISER AWARD goes to...
Bob "I think itís the fan blades..." Laus
BEST IMPERSONATION OF "HOME IMPROVEMENT" AWARD goes to...
Greg "The Whole Shop is in the Back of the Truck" Luer, his wife, and three sons
WILDEST CROSSING OF THE "GOLDEN CRACK" AWARD goes to...
Karr "Shut up and hold on, Margaret" Accord
LEAST PRIMITIVE CAMPING ARRANGEMENTS AWARD goes to...
Todd "We even have a TV in the Bathroom" Oldenburg and his wife Donna
BEST UPHOLDING OF A LAND CRUISER MYTH goes to...
Rob "Canadians are lucky at the raffle" Mullen
--Henry J. Cubillan TLCA; AZLCA; CLCC; U4WDA 1991 FJ62
---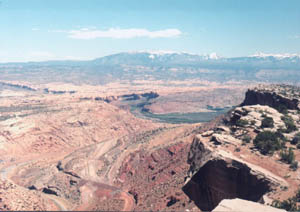 ---
John Kuzma wrote:
Just returned from having one of the greatest 4 wheeling weeks of my life. Moab 2000 was fanTASTIC!!!. Great weather (saw clouds only the lastday), Great trucks, Great trails, Great people. When you add to the mix, 4 wheeling in Moab with your Son, it makes for one of the greatest weeks of my life.
Thank you Rising Sun for putting on this fantastic event and thank you fellow Cruiser Heads who were able to attend for bringing the love of Land Cruisers and 4 wheeling to Moab.
John Kuzma, Santa Clarita, CA. TLCA#7594
73 FJ-40 Big Red aka KONG
76 FJ-40 Nitro
86 FJ-60 Big Foot
65 FJ-45 Too new to name
---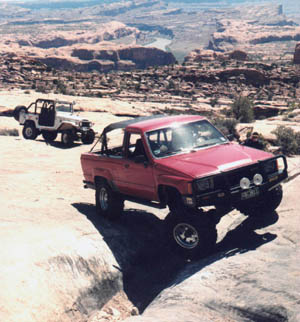 ---
Deano Kothe wrote:

Folks,
I want to thank the Rising Sun and the TLCA for putting on such a great event. This was the first outing for my slightly modified FJ40 (Speedwagon)and also the first "Big" trail run that my dad or I had been on.
Arriving on Saturday we unpacked and just generally goofed off in Moab and around the Slickrock Campground (Blizzard Warnings). Sunday we hit the trail with Chris (Goldilocks) Hatfield and Henry (Beep Beep) Brimmer. After doing ALL of Poison Spider Mesa, we then completed all of Golden Spike and Gold Bar Rim. This made for one long day concidering we hadnít ever saw slickrock before. Monday was Kane Creek Canyon with the BRUCE PATROL. Tuesday was Steel Bender except for a minor incident was a blast. Wedsday was a complete rerun of Poison Spider Mesa with an two direction trip thru the Launch Pad. Thursday was a lot of fun on Hellís Revenge and another minor learning experience concerning a "Hot Tub". Friday we did almost all of Metal Masher. Due to a bit a metal fatigue we didnít finish the trail. hehehehe Due to a bit of trail repairs we didnít go on our scheduled Golden Spike run on Saturday.
Iíd like to thank all of the Rising Sun members including but not limited to Kevin E, Chris H, Steven R, Mike A, Dave B, Dave S, The Bruce Patrol (Bruce M, Bruce M and Bruce W), Greg L and Linda (I think) S.
It was definetely a blast for this flatland boy. It was also a ton of fun to meet all of the TLCA officers and members of which there were to many to count. Really enjoyed meeting Karr and Stephen A, Henry B, Henry C, Tony and Cindy Twitty. I know I left out a few and I hope they understand that Iím getting older and the mind is the first thing to fail.

THANKS FOR A GREAT TIME!

Deano Kothe
Green Country Cruisers Sec/Treas
TLCA# 5347
Ď65 FJ40 Primer Gray, SM420, Rear LockRight, PS, PB, SR, SO, Full Moab Flop Tested Cage and Winner of CMí00ís 8 Ball Award!
---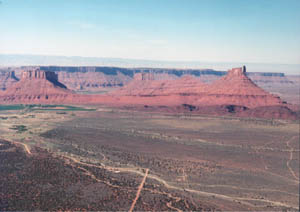 ---
Tony Twiddy wrote:

Hey all...
got myself all zubscribed again and catching up...
As has been noted, thanks to all Rising Sun Members for hosting a fantastic event, CM2000. I am totally impressed with the people I have met at the event and more impressed with the fantastic wheeling available there. If you have not been... you gotta go!
I would love to tell you all about it but I am working on my write up for TT and Henry does not like it if you post to the List first... so youíll have to wait. From the stories I have heard, there was more carnage on the ride home then there was at the event.
We took many pictures of others who were on our runs... you know who you are and copies are being mailed to you. Now I understand about those crazy Canadians. Anyone have a shot of me climbing Hells Gate... Cindy actually rode with me through that Ďobstacleí which was great but > consequently, no pix. Also, whatís up with Ďobstacleí? Thatís the first time I have heard tough portions of a trail referred to as obstacles. "Weíre coming up to the Walker Hill obstacle." "This is the Winch Hill #2 obstacle."
Rather than list the folks I met (all who were wonderful), I will note that there were many I did NOT meet and wanted to... Eric Vogt, Todd Oldenburg, John Kuzma... sorry I missed you folks (Perhaps I did meet them and forgot, I met so many).
Special thanks to Bruce and Barbara (I won the winch) Miller! Great people!!! Got home from work yesterday and there was a Smokey Bear sticker in Spanish - Awesome! (Ya, Smokey and I are buddies.)
Deano Kothe.... the best! He typifies cruiser folk. And no one is better with a hammer than his dad.
---
---
PMC Members Tom Boyd and family, Phil Pasciak, Jeff Bryant & Lori Damann, Gary Bjork and Gary Kardum were there... always great to have some of your Club Members there.
The bed in our cabin! Awful! Terrible! The Worst! I donít believe I slept for 5 nights. Never again will I leave my pad and bags at home... chock that one up to experience.
The pot-luck set up by Adam... great fun! Needless to say, I was a bit pumped after running Behind the Rocks and I had a great time... Zeppy Shrimp, The Best (thanks shrimp girl).
I am sorry for rambling but I am still so pumped from this event! My 82 Mini did awesome despite the operator and we ended up logging 2400 miles.
Now I have to catch up on this ACT2001 stuff and find out if I still can qualify or just go on my own as I noted I was going to do months earlier when it appeared as if the event was not going to happen.
Thanks for your time, sorry to ramble... and again, thanks for everyone who made CM such a great event for my wife Cindy and I.
Tony Twiddy
TLCA #5049
Pres, PMC, TLCA of N. CA Blue Ribbon United TLCA Western Rep
Stay tuned for reminders about PMC Fun Day! Poker run and PMC Swap Meet
Hope to see you at Rubithon! Friday @ 9 to Buck.
---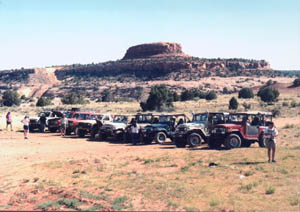 ---

"Eric V." wrote:

Well after returning from Moab for the second time this year, I must say that it is Awesome. Photos do not do it justice. I only had two minor glitches in my trip. My CD player now eats CDs and does not like to return them and I broke a CB antenna the night before Moab officially began on the Gold Bar Rim Trail. My sidebars were a big help, as we used them to bounce off of some of the rocks.
I met a ton of cool people. The really strange thing was to have people walk up to you and know you by name, when you havenít ever really met them in real life. Henry C., Gary Bjork, Adam Tolman, Kirk Isaacson were a few of the people I walked right up to and started having a conversation. It was like going to a class reunion with people you have never met. I also met some people from the List and from other clubs that I had never heard of on the list before.
I only met a couple of rude people on the whole trip. I felt bad because I know some of the others didnít get to know a lot of nice people and it left a sour taste in their mouths.
For not carrying a huge supply of parts I managed to help get 4 rigs back on the road. I knew those misc. metric bolts and wires would come in handy. I now realize that I probably need to add to my stash.
The group from Venezuela was definitely one of the highlights. They were so kind. They showed me everything on their rigs. Check out the photos!! Henry Cís Princess got tucked in with the Venezuela Land Cruisers as it was fitting!
We arrived too late on Wed. to do the Golden Spike Trail, but we did manage to sneak in a trip up the Lionís Back. That little trail is highly overrated, Fins and Things has more challenging obstacles.
The best part of the trip was the friendships I made with people from around the country. I hope I can keep up with them and look them up if I make it to their neck of the woods.
http://albums.photopoint.com/j/AlbumList?u=213066
Has Photos of our Big Adventure and other Misc. Adventures and Cruisers!

Thanks Everyone!




Eric V. lcsixty@yahoo.com
85 FJ60 350TBI Ranger Underdrive OME Rancho9000s
VP NW Cruisers Idaho http://www.angelfire.com/id/nwcruisers TLCA 7328 http://www.angelfire.com/id/v8j60
CRUISING MOAB in 2000!!!!!!
---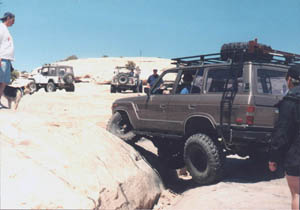 ---

SSyzdek@aol.com wrote:

As a member of the Southern Nevada Land Cruisers I would like to thank you for the note. We were happy to donate a CB radio and a High-Lift Jack. My dad and I attended Cruise Moab 2000 with several other SNLC members. We really enjoyed the Event.
I would like to thank our hosts and all of the people that attended. It was so awesome to see so many Cruisers and Minis in one place. The runs I went on were fantastic, some of the best 4wheeling that I have ever done. It was sure great to meet some of the LCML listers and to put faces with the names.




PS Henry B., Thanks for the award.

Steve Syzdek
Southern Nevada Land Cruisers
TLCA # 3829
Mustard 1979 FJ-40, 1997 4Runner
---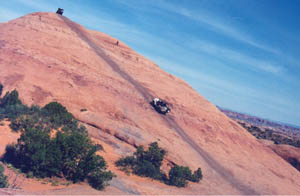 ---

Todd Andrews wrote:

(LURK MODE OFF) A big thanks to Rising Sun for putting on a great run! Here in Missouri you get a cruiser sighting about once every 2 or 3 weeks, when we rolled into camp i was scooping my jaw up off the floor boards. Maybe one day my rig will emerge from the garage, until then I will stand in awe of people and the cruisers i saw...(LURK MODE ON)


http://albums.photopoint.com/j/AlbumList?u=846827



Todd Andrews KC, Missouri
1975 VJ-40 Frame up rebuilt in progress TLCA 10013
---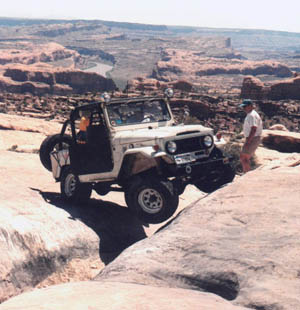 ---

Alan Loshbaugh wrote:

Just gettin back to my computer...Cruise Moab 2000 was great! Big thanks to Rising Sun who really did an excellent job.
My 40 held up real well, and the K.C. contingent and I spent an extra day up in the LaSal Mountains winching through snow banks up in the high country. We came across an abandoned FJ60 that was high centered on a snow bank-bummer-and decided it was better to leave it high centered as a theft deterrant rather than pull it down for the missing owner.
Eric-I have the video dubbed and will bring it to Tuttle next week...





Alan Loshbaugh Columbia, Missouri
komual@showme.missouri.edu
1976 FJ40-Black Beast, 1965 FJ45L-under Construction, 1967 M715-the Hulk